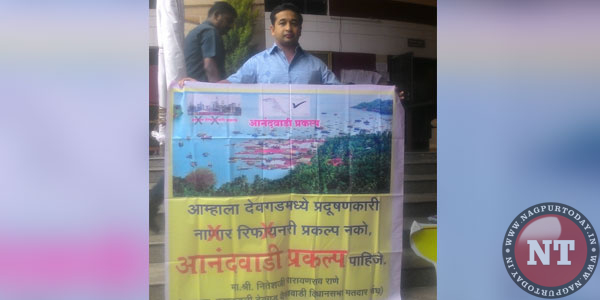 Nagpur: Congress MLA Nitish Rane staged protest at the stairs of Vidhan Bhavan and opposed the proposed oil refinery project at Nanar in Rajapur Tehsil of Ratnagiri district. "The local residents are up in arms against the project. The oil refinery project will pose environmental hazard in Konkan. We don't want this project. We want the proposed Anganwadi Project at Deogad that will bring prosperity to fishermen," demanded Rane.
Talking to media persons, Rane said the oil refinery project at Nanar would be harmful to the environment in Konkan. The project is not for development of Konkan but it will ruin the region. Locals strongly opposed the petrochemical and refinery complex at Nanar in Ratnagiri district. The government should cancel the proposed project and focus on Anganwadi project at Deogad for prosperity of local fishermen, Rane stressed.
The project has been a bone of contention between Shiv Sena and the BJP which leads the coalition government in the state. In this Sena-dominated region, the party has been backing the farmers and villagers opposed to the project as they believe it would destroy the environment as well as their livelihood — farming and fishing.
In December 2015, Union Oil Minister Dharmendra Pradhan had announced that the refinery would be set up by Indian Oil Corporation Ltd, Bharat Petroleum and Hindustan Petroleum in a joint venture with Saudi Aramco.
The Shiv Sena, which is part of the BJP-led ruling coalition in Maharashtra, has been consistently opposing the project along with the locals in Ratnagiri.