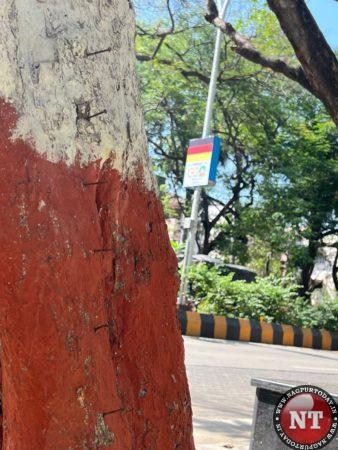 Nagpur: General Secretary, MPCC, and President, Swayam Social Organisation Vishal Muttemwar, in a letter sent to Radhakrishnan B, Commissioner Nagpur Municipal Corporation, highlighted the enormous damage caused to trees by piercing nails in thousands for lighting and decorations for the C20 meeting held recently in Nagpur.
Vishal Muttemwar, in his letter dated March 27, pointed out that during the recently held C-20 summit in Nagpur, many trees which serve as the lifeline of Nagpur were pierced with nails in order to illuminate them for decoration purposes. Along with the letter, a few pictures and videos which were taken today were attached as a proof.
"As a nature lover and concerned citizen of Nagpur City, it is my earnest request to you to commission an audit of all the damaged trees and take immediate action to have the nails removed from the trees. I cannot emphasize enough the role of this natural treasure that plays an extremely important role in maintaining the ecological balance and protection of environment. I sincerely hope that you would consider this matter seriously, the Congress leader urged the Municipal Commissioner.