Congress Government cannot lead country on the path of development- Gadkari

Second round of campaign of Nitin Gadkari in the south region
Nagpur Today: Bhartiya Janata Party candidate from Nagpur Lok Sabha Nitin Gadkari launched a frontal attack on Congress party and urged people to dethrone Congress from the country. Addressing an election rally at South-West Nagpur Gadkari said. The country is facing tremendous agrarian crisis, farmers' suicides, Inflation, terror attack, corruption, scams, and other. The women, youths, senior citizens are not secure in Congress led UPA regime.
Election meetings were organized at Manish Nagar, Rameshwari, Shatabadi square, Rajabaksha. State President Devendra Fadnavis, MLA Chandrashekhar Bawankule, Shin Sena Leader Ramesh Bakshi. RPI (A) Raju Bahadure. Ashish D.hmulch, Sandip Joshi, Ramesh Singare. Sudhalcar Kohl, Girish Deshmukh, Kishore Wankhede. Manna Yadav, Jayashree Wadibhasme, and Sumitra Jadhav were present on the dais.
Gadkari campaigned in South Nagpur assembly constituency on Monday. The election campaign rally visited Chhota Tajbagh. Somwari Quarter, Tukdoji Putla, Jawahar Nagar, Juna Subhedar. Chakradhar Nagar, Slime Layout, Sonjari Nagar, Khot Gali, Rukmini Nagar and other areas.Shiv Sena District Chief, Shekhar Sawarbandhe, former MLA Mohan Mate, Girish Vyas, Jamal Siddique. Sanjay Bhende, Satish Holey, Divya Dhurde, Kailash Chute and others were present in the open jeep. Sanjay Thakar, Vijay Ashole, Divya Dhurde, Neeta Thakre. Swati Akhatkar, Reeta Mule, Balwant Jichkar, Abdul Kadir, Deepak Choudhari, Ad. Mohan Waghmare, Devendra Dasture, Pores Thakur, and others were present.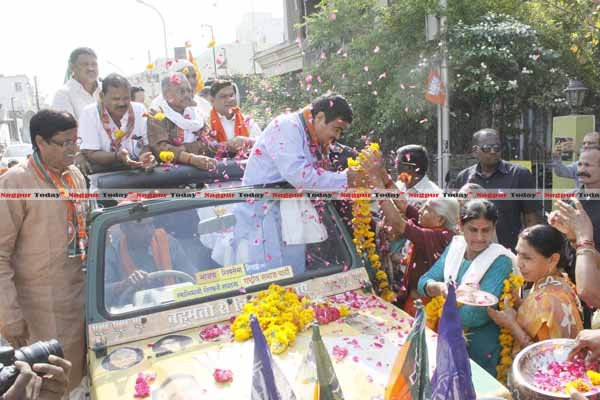 BJP favours Dalits Udit Raj Datil Leader Dr. Udit Raj praised BJP for upliftment of Dalits in the country. He said. Congress has used Dalits as vote bank only and did not plan any development schemes for them. City UP President Krishna Khopde was also present on the programme. SC Committee Vice President Ashok Mendhe, Bhaiyalal. Subhash Pardhi. Shriram Bahoria. DG Uke. Reena Kuttarmare, Sanjay Kadale, Sangpal Upre were present. Chopde's Padyatra for Gadkari City BJP President and MLA Krishna Khopde campaigned for BJP candidate Nitin Gadkan in East Nagpur Assembly Constituency. He is getting positive response from the voters. Standing Committee Chairman Balya Borkar, Corporator Ravindra Dolas, Sulochana Rove, Sangita Kalamkar, Ramdas Gudadhe. Sarita ICawre, Anita Wankhede, Pravin Naral. Manisha Kothe. Devendra Mehar and others were present. BJP candidate Gadkari will campaign in Central Nagpur from Bhavsar Square at 9 am. He also addresses several meetings in North Nagpur from 6 pm.
:: Manohar Roy