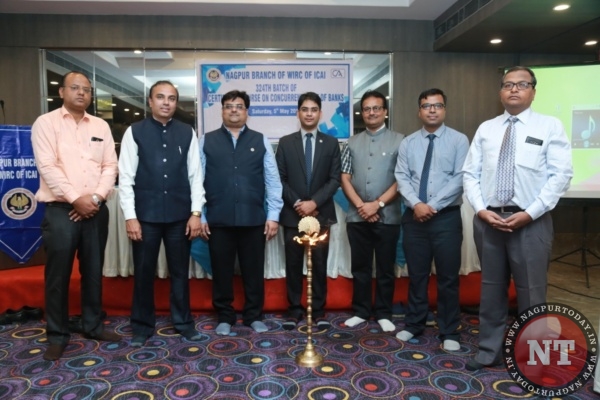 Nagpur: Concurrent Auditors of the Public Sector Banks are capable of detecting irregularities and lapses in the Banks system thereby preventing fraudulent transaction at Branches said CA. Julfesh Shah, Former Vice Chairman of WIRC and Past Chairman of Nagpur Branch of WIRC of ICAI. He was speaking as the Chief Guest at the inauguration of 324th Certificate Course on Concurrent Audit of Banks hosted by Nagpur Branch of ICAI.
He further added that the advent of technology and increased complexity has exposed banking transactions to frauds which has increased the need for concurrent Audit. He informed the members that concurrent Audit He said that detection of revenue leakage is also one of the most important parts of concurrent audit. He further said that checking of credit financing is very critical to reduce losses of banks. While highlighting the importance of Concurrent Audit in Banks he said that Chartered Accountants are well equipped to appraise the systems implemented by Banks and are working rigorously for detecting frauds and suspicious activities in the Bank on a real time basis.
Earlier, Chairman of Nagpur Branch of ICAI, CA. Umang V Agrawal in his welcome address mentioned that with the changing times the role of Concurrent Auditor has increased manifold. He added that transactions of agriculture, SME, treasury, foreign exchange and corporate, retail assets, portfolio management, treasury, foreign exchange nature should be minutely covered under concurrent audit by the banks. It's important for Concurrent Auditor to stay updated about the various developments and various regulatory requirements for which such certificate courses play a very important role to help the Auditors to bestow their responsibilities effectively. He further added that this course is organized by IASB with an objective to provide members with an opportunity to understand the intricacies of concurrent audit thereby improve the effectiveness, quality & coverage as concurrent audit report.
CA. Sanjay M Agrawal, co-ordinated the program whereas CA. Kirit Kalyani, Secretary of the branch proposed formal vote of thanks. Prominently present on the occasion were CA. Saket Bagdia, CA. Uday Kulkarni, CA Prateek Gupta, CA. Jayshree Jhawar and members in large numbers.