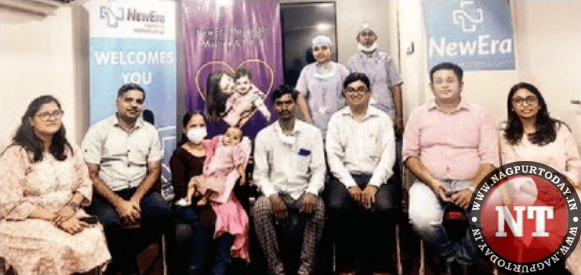 Nagpur: In a remarkable medical achievement, a 9-month-old baby boy diagnosed with a rare congenital heart condition called Supracardiac Total Anomalous Pulmonary Venous Connection (TAPVC) has been successfully treated through a complex surgery conducted at a renowned city hospital in Nagpur. The condition, which affects less than 9 out of 100,000 newborns, required skilled intervention to rectify the life-threatening defect.
The intricate surgical procedure was performed at New Era Mother and Child Care Hospital by a team of expert surgeons. Led by Paediatric Cardiac Surgeon Dr Sandeep Khanzode and Cardiothoracic Surgeon Dr Anand Sancheti, the surgical team effectively addressed the baby's congenital heart defect, which could have proved fatal if left untreated. The successful surgery was supported by anaesthesiologist Shrikant Bobade and a team of paediatric critical intensivists led by Dr Anand Bhutada.
TAPVC is a complex congenital heart defect characterized by abnormal connections of the pulmonary veins responsible for carrying oxygen-rich blood from the lungs to the heart. In the case of Supracardiac TAPVC, the abnormal connection occurs between the veins that drain blood into the heart, leading to severe heart-lung complications that can be life-threatening. The surgical team skillfully corrected the baby's heart defect, restoring normal blood flow and potentially saving his life.
Dr Sancheti expressed pride in the team's dedication and expertise, emphasizing the importance of early intervention for children with congenital heart conditions. He highlighted the significance of timely treatment in ensuring proper growth and providing affected children with a chance at a normal life.
Dr Bhutada, the Director of New Era's Mother and Child Hospital, acknowledged the rarity and complexity of the case. He stated that TAPVC occurs in only 0.5 to 0.9 cases per 100,000 live births and accounts for 1% of all congenital heart defects. The success of this exceptionally rare case underscores the advanced medical infrastructure and skilled professionals available in Nagpur.
The successful surgery has instilled renewed hope in the baby's future, according to his father. Opting for early intervention allowed their child to grow without the burden of this life-threatening condition. The family expressed surprise and gratitude upon discovering the expertise available in Nagpur for such complex procedures.
This groundbreaking medical achievement not only highlights the expertise and dedication of the surgical team but also showcases the advanced healthcare infrastructure in Nagpur, providing hope and improved prospects for children with rare congenital heart conditions.