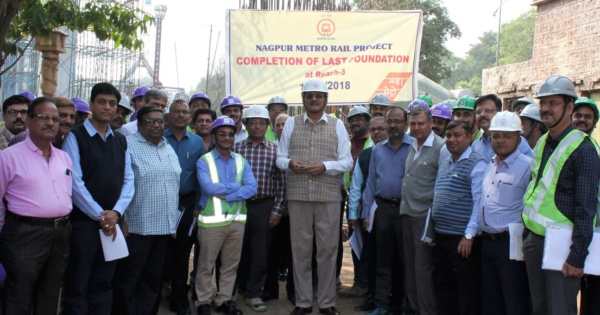 Nagpur: The construction company IL and FS (Infrastructure Leasing and Financial Services), working with Nagpur Metro Rail Project, has gone bankrupt. Taking serious view of the development, Maha Metro has cancelled the contract of the company.
The Managing Director of Maha Metro Brujesh Dixit on Wednesday said that all the contracts signed with the company have been annulled. Now, the company's works will be completed by Maha Metro itself with all its resources. The Infrastructure Leasing and Financial Services was given contract to construct 10 stations under Nagpur Metro Rail Project. Out of these 10 stations, Khapri, Airport and Airport South stations have already been constructed. The company was supposed to build seven more stations on Wardha Road route (Reach 1), Dixit said.
Dixit further said that Maha Metro will try to carry out remaining work by itself. If this is not possible then other companies working under the project will be awarded the contract. The company going defaulter has not only affected Metro work but also the employees. The employees were not being paid their salaries by the company since past four months and they had staged demonstyration in front of Metro office on December 10. The company was also assigned work of constructing viaduct. NMRCL has fixed 2019 as deadline for commencing the project. The contract of the company was cancelled to ensure that further work is not affected. Maha Metro is contemplating to pay salaries of the affected employees through the bank guarantee amount deposited by the defaulter company. Maha Metro will not suffer additional financial burden for clearing the pending dues of the employees, Dixit said.