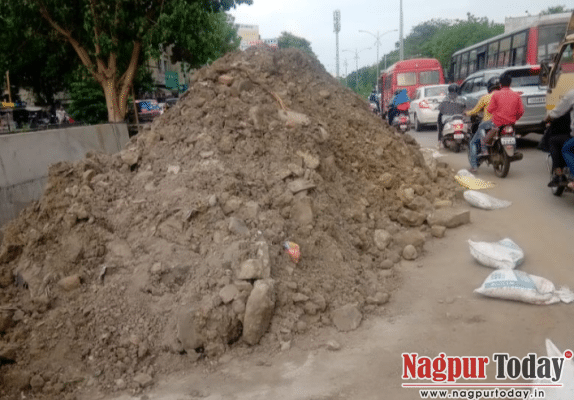 Nagpur: Even after three-four months after the work of drainage cleaning has been done; however, the filth removed from the Nala is still not removed from Ring Road, just before Narendra Nagar Square. Compelling commuters travelling through Ring Road and Narendra Nagar residents to inhale drainage filth dust.
After the nala was cleaned the filth was left over on the ring road adjoining Nala for last more than three-four months. In this period the filth that was dumped on road side has spread all over the ring road. When the filth got dried up the Nagpur Municipal Corporation (NMC) should have picked it up, but in vain, said Adv. Akshay Samarth, National Convenor, Rajiv Gandhi Panchayati Raj Sangathan, All India Congress Committee.
He further added that, "The vehicles running on the Ring road is making the filth dust spread over all the area and the residents and the passengers are forced to inhale such infectious filth dust. Thanks to NMC's apathy. Also there are no proper signages and sand bags are dangerously put on the road by the side of the heap of this filth," he said, while seeking immediate action from NMC.