TN Governor Purohit, Gadkari perform puja at Shri Poddareshwar Ram Mandir, CM Fadnavis at Ramnagar Ram Temple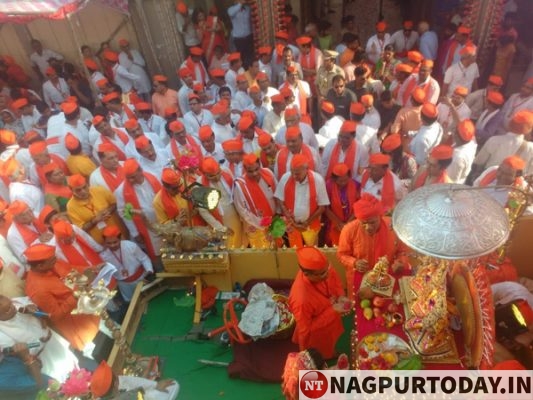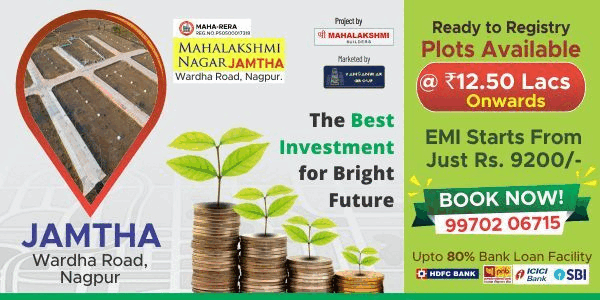 Nagpur: The Second Capital City of Nagpur, popularly called Orange City, on Saturday soaked in religious fervour and reverberated Jai Shri Ram chants as annual Shobhayatras were taken out to mark Ram Navami. The main Shobhayatra, taken out from Shri Poddareshwar Ram Mandir on Central Avenue, commenced after main puja of idols of Shri Ram, Janaki, Laxman and Hanuman by dignitaries including Governor of Tamil Nadu Banwarilal Purohit, Union Minister Nitin Gadkari and Mayor Nanda Jichkar.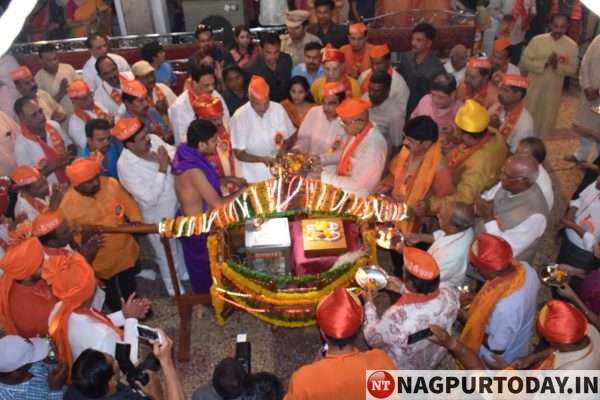 The Poddareshwar Ram Mandir and Ramnagar Ram Mandir have been illuminated with dazzling lighting as part of the majestic Ram Navami celebrations. This is the 53rd year of Shobhayatra taken out from Shri Poddareshwar Ram Mandir.
An array of colourful and attractive jhankis or floats and tableaux showcasing various events of Ramayana were part of Shobhayatra.
Braving the sweltering summer heat, thousands of devotees thronged at the vantage points as Shobhayatras passed through streets across the East and West city. Chants of 'Jai Shri Ram' filled the air as devotees in large numbers brimming enthusiasm and devotion took part in colourful Ram Navami extravaganza. Volunteers of various organisations were deployed to render services on the entire routes of Shobhayatras. Idols and huge images of Lord Ram and Sita were worshipped at many places even as hundreds of volunteers provided water and 'prasad' to devotees. People of all religions and castes took part in the Shobhayatra and promoted peace, love and brotherhood.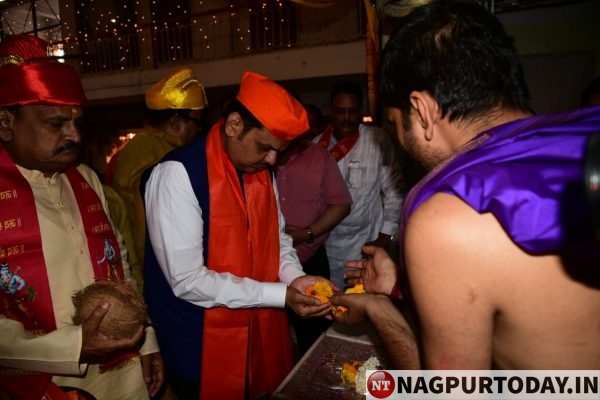 The Shobhayatra started from Shri Poddareshwar Ram Mandir and will cover the Old Bhandara Road, Ganjakhet Square, Mominpura Square, Shaheed Square, Agrasen Square, Kotwali Police Station, Tilak Putla, Gandhisagar Lake, Lohapul, Munje Square, Jhansi Rani Square, Variety Square, Manas Square, Ganesh Tekadi, Ramjhula and back to the temple.
In West Nagpur, Shobhayatra from Ram Mandir, Ramnagar, commenced after Chief Minister Devendra Fadnavis performed puja of idols of Lord Ram, Sita, Laxman and Hanuman installed in a palanquin. Fadnavis also carried the palanquin on his shoulders to mark beginning of the colourful Shobhayatra. SouthCentral Zone Cultural Centre (SCZCC) is the main sponsor for this year's Shobhayatra.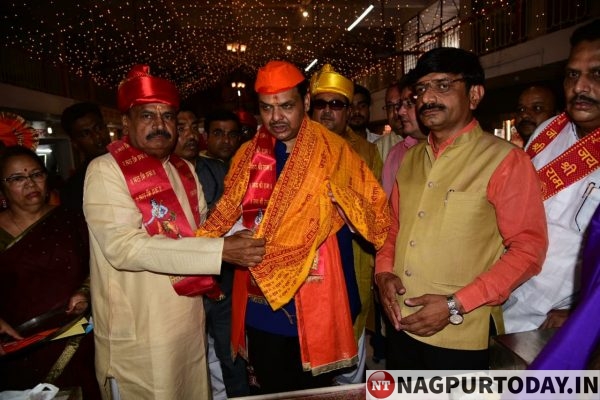 The main attraction of Shobhayatra this year is the folk dance items being presented by artists from four States on seven different places on the route of procession. The folk dance event is being sponsored by South Central Zone Cultural Centre (SCZCC. The Shobhayatra in West Nagpur will pass through Baji Prabhu Square, Laxmi Bhuvan Square, Coffee House Square, Zenda Chowk, Laxminarayan Mandir Square, Shankar Nagar Square, Bajaj Nagar Chowk, Laxmi Nagar Square, Abhyankar Square, VNIT Gate Square,LAD College Square, Hill Road, Baji Prabhu Square and conclude at Shriram Mandir.