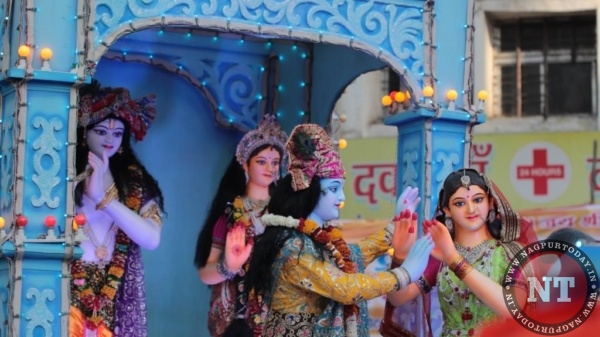 Nagpur: The City of Nagpur celebrated the colourful extravaganza marking Ram Navami in an awe-inspiring scale. The Orange City turned a sea of saffron as a number of Shobhayatras the main being taken out from Shri Poddareshwar Mandir took the city religious zenith. The Shobhayatra covered a long route going through the heart of city & people of all age groups in thousands lined across the streets to watch the dazzling display.
The Shobhayatra also depicts communal harmony in the city. This is not a religious rally. People from various religions are associated with the event. The city police force made elaborate arrangements for peaceful and trouble-free celebration. The historic and centrally located city of Nagpur is heart of India. The whole city of Nagpur is covered with the lush greenery all over. In their zeal to serve Lord Ram, a group of volunteers nominated by Bollywood superstar Salman Khan's organisation and Gaurav Sanstha cleaned the route of Shobhayatra.
The vivid and vibrant celebration of Ram Navami was captured in the Nagpur Today camera. The breathtaking moments will leave one mesmerised.
Have a look.