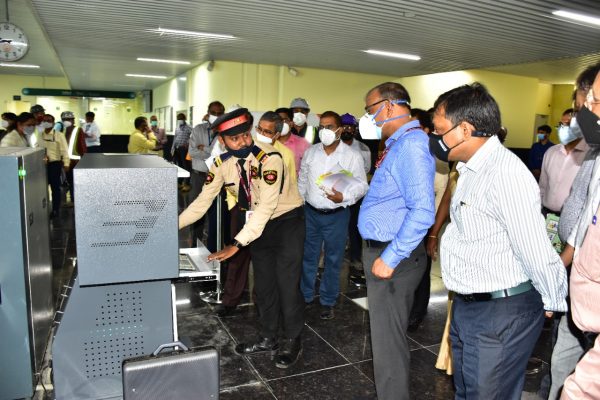 Nagpur: Shri Janak Kumar Garg, Commissioner of Metro Rail Safety, and his team inspected several works of Nagpur Metro on Wednesday. The team expressed satisfaction over the finished and ongoing works.
The team arrived at Sitabuldi Interchange station at 9.30 am and then did inspection of Sitabuldi to Zero Mile Freedom Park station stretch by foot patrolling. They checked the curves, points and crossovers, track, overhead electrical (OHE), signalling and telecommunications, etc. They similarly inspected the stretch from Zero Mile to Kasturchand Park station by motor trolley.
From 11.15 am to 12 noon, the CMRS team observed train movement from Kasturchand Park to Sitabuldi at 40 kilometre per hour and then from Sitabuldi to Kasturchand Park at 80 kmph (the maximum permissible speed). The officers performed bearing inspection and steel girder bridge inspection after that.
Arjun Bhagavatula, Vivek Bajpayee, Rishabh Dwivedi, Kashmiri Lal Pruthi and Rohit Kumar Mahour accompanied CMRS Garg. Maha Metro Director (Project) Mahesh Kumar, Director (Rolling Stock) Sunil Mathur, Project Director R Ramanathan, Executive Directors Giridhari Paunikar, Arun Kumar, Naresh Gurbani, G P Deharia and Rajesh Patil, General Manager (O&M) Sudhakar Urade and other senior officers accompanied the CMRS team during their inspection.
On Thursday, the CMRS team will inspect the Zero Mile and Kasturchand Park stations.