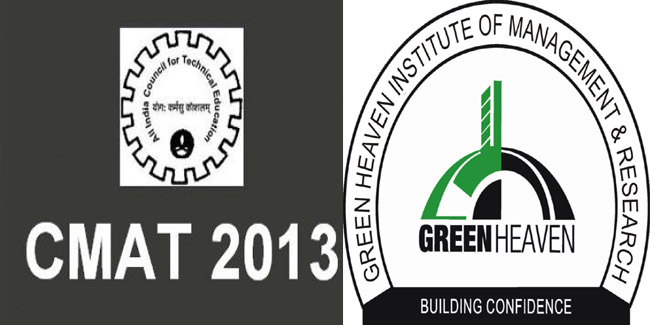 Nagpur News: On the special request of few State Governments, AICTE has decided to conduct an additional online All India CMAT examination for the academic year 2013-14 in order to facilitate those candidates who could not appear in the earlier CMAT informed Avinash Bhowate,Asst. Professor , GHIMR,Nagpur.
He further added that the candidates can make maximum two attempts for the academic year 2013-14 and better of two scores will be used for admission.
Eligibility: Graduates in any discipline or final year students of graduate courses can apply for CMAT online
The candidates who have already appeared in both the CMAT held in September, 2012 and February, 2013 will not be allowed to appear in this test
Test Centres: Ahmedabad, Ahmednagar, Allahabad, Amravati, Amritsar, Aurangabad, Bangalore, Belgaum, Bellary, Bhavnagar, Bhopal, Bhubaneswar, Bhuj, Chandigarh, Chennai, Coimbatore, Devangere, Dehradun, Delhi, Dharwad, Gulbarga, Gurgaon, Guwahati, Gwalior, Hyderabad, Indore, Jabalpur, Jaipur, Jammu, Jodhpur, Kanpur, Kochi, Kolhapur, Kolkata, Kozhikode, Lucknow, Madurai, Mangalore, Meerut, Mumbai, Mysore, Nagpur, Nasik, Noida, Panaji, Patna, Pune, Rajkot, Raipur, Ranchi, Shimla, Surat, Trivandrum, Udaipur, Vadodara, Varanasi, Visakhapatnam
Admission Procedure: The detailed merit list will be provided to the respective State Governments for allotting the students through central counseling or otherwise as per their notified admission procedure
In case there is no central counseling scores awarded will be used for admission in the AICTE approved institutes/university departments
Information sources: Email customercare@aicte-cmat.in; helpline number 022-40679404, Fax 022-25814283; phone support availability 10th March, 2013 to 01st July, 2013
Registration: Online from 10th March, 2013 to 10th April, 2013 on website www.aicte-cmat.in
Choice of 3 cities for online examination in the order of preference
Allotment will be based on first come first served
Actual allotment however will be subject to availability of the slots in a particular city
Test Fee: General/OBC Rs 1200/- plus bank charges as applicable; SC/ST/PD Rs 600/- plus bank charges as applicable
Important Dates
Registration window opens on: 10th March, 2013
Last date for online registration: 10th April, 2013
Print out of hall ticket from: 03rd May, 2013
Date of computer based test: 19th May, 2013 to 22nd May, 2013, 09.30 a.m. to 12.30 p.m., 02.30 p.m. to 05.30 p.m.
Declaration of result: 01st June, 2013
Print out of score cards from: 01st June, 2013 to 01st July, 2013
For Online Application student can visit  GHIMR site at http://intranet.ghimr.edu.in