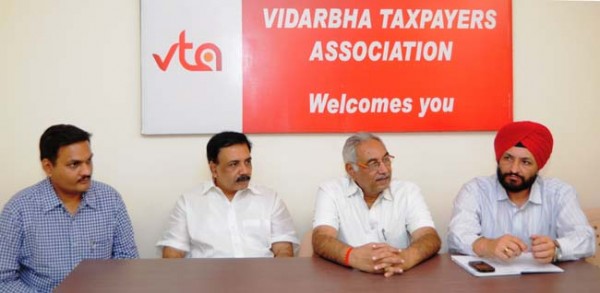 Nagpur News: Supporting Local Body Tax (LBT), Chief Minister Prithviraj Chavan has recently submitted that he had held discussions with chambers of commerce, Confederation of Indian Industries, Assocham and other organisations that have supported LBT.
CM argued that traders' suggestion of levy 1% extra value added tax (VAT) instead of LBT was not feasible; he said the 74th amendment of the Constitution provided autonomy to the local bodies and if the state collected the extra VAT and sent it to municipal corporations, it would amount to the state government collecting tax on behalf of the civic bodies and thus violate their autonomy.
CM had also submitted that 50% of the population is based in rural areas, hence is they pay the extra VAT, which would eventually go to cities, was not right.
Defending such claims, Vidarbha Taxpayers Association (VTA) in a recent meeting presided by its President J. P. Sharma said that Chief Minister should stop misleading taxpayers, none of the trade association, including FICCI or IMC had supported LBT.
Sharma said, Maharashtra is said to be one of the most advanced State, however LBT is terming as a major backward step for the State. CM should encourage progressive steps and avoid such situation which compels trader and industry to shift to neighbouring States.
Tejinder Singh Renu, secretary of VTA said almost 80% of the State revenue is generated from urban areas and the funds are mostly utilised for both urban and rural area, however with much more emphases on rural development; which is accepted as we want our rural Maharashtra to have roads, drinking water, medical facilities, general needs, etc and if in return this 50% rural population share minute portion of share for urban local bodies (ULBs) it should be totally justified.
Renu said utilizing Escrow mechanism of accounting revenue sharing by State and ULB can be done when surcharge on VAT is added in lieu of LBT. Moreover the 74th amendment of the Constitution does not bar sharing of taxes between the State and Municipalities. Likewise in name of LBT, State has already increased 1% Stamp Duty which is directly going into State kitty.
On seeking opinion from VTA counsel Advocate Harnish Gadhia on protection of autonomy of the Corporations as argued by CM, Gadhia said the State is levying LBT in lieu of Octroi. For Octroi the rules were made by the Corporation itself and the skeleton thereof was chalked out in the CNC Act. However for LBT even the rules are made by the State Govt. including the very MMC Act which gave birth to LBT Rules. This per-se shows that the very introduction of LBT is contrary to self-governance principle and autonomy enjoyed or allowed to be enjoyed by the Corporation. 74th Amendment nowhere prohibits the levy of taxes by the STate Govt. for and on behalf of the Corporation. If Entry No. 52 in State List i.e. List No. II to the 7th Schedule of the Constitution is seen then it shall reveal that Taxes on the entry of goods into local area for consumption use or sale can be levied exclusively by the State Govt. However, as we have been debating that the entry of goods is no longer the incidence of taxation in the LBT Rules and the same is now superstitiously changed to sale or purchase then also the power is vested in the State Govt. in Entry No. 54 of the same list. If really the Govt. is worried about the autonomy of the corporation then the first thing they should do is repeal the LBT Rules.
VTA appeals to Chief Minister Prithviraj Chavan that instead of misleading taxpayers, this draconian local body tax may please be denounced in the interest of State of Maharashtra and avoid adding of another debacle on our State.
Present in the meeting were Hemant Trivedi – Joint Secretary, Executive Body Member Amarjeet Singh Chawla, Rajesh Kanoongo, Saqib Parekh and Rohit Kanoongo.