City's vivid, vibrant flowers blossoming in the country as most beautiful, colourful: Purohit

The Mayor Anil Sole said, "The Flower Expo is number one expo in the country and would be organized every year. The Nagpur flowers would certainly spread their flavour across the country."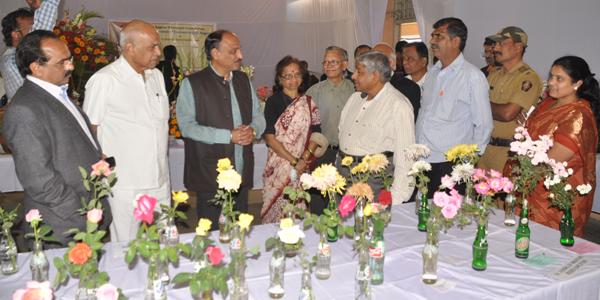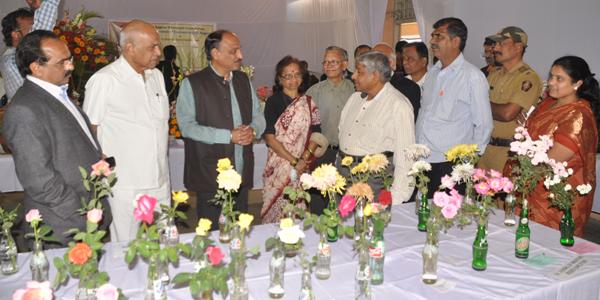 Nagpur News.
A grand Flower Expo was organized jointly by Nagpur Municipal Corporation (NMC), Friends International and Institution of Engineers to mark the ongoing NMC's 150th Year Celebrations. Former MP Banwarilal Purohit inaugurated the Flower Expo by lighting the traditional lamp and cutting red ribbon. Mayor Anil Sole presided over the function.
The chief guest Banwarilal Purohit asserted that the "Most beautiful flowers in the country belonged to Nagpur. I cherished the colourful scenario depicting beautiful roses, shevanti (Chrysanthemums) and other vivid flowers. Nagpur flowers are blossoming as the most beautiful flowers in the country. The NMC should organize such flower expos every year and thus drawing people from all over the country to witness the vivid and vibrant Nagpur flowers. I appreciate the organizers of the Flower Expo," Purohit said with cheerful smile.
The Flower Expo is depicting different species of Roses, Chrysanthemums, trees, and other attractive species of flowers. The special attractions of the Flower Expo are Gond Raje's 1928 car decorated with different species of flowers and a bullock cart.
The Mayor Anil Sole, in his speech said, "The Flower Expo is number one expo in the country and would be organized every year. The Nagpur flowers would certainly spread flavour across the country. NMC has been organizing exhibitions on books and volumes since seven years. Similarly, the flower expos would turn out to be pride of Nagpur and people from far off places will be drawn to enjoy the vivid and vibrant flowers. The Flower Expo is part of NMC's 150th Year Celebrations and citizens should visit the Expo in large number and treasure the beautiful moments," the Mayor said.
The NMC Commissioner Shyam Wardhane said, "Life is beautiful. But flowers are more beautiful and we should get inspired from the qualities of flowers that make every living being cheerful by their colours, flavour despite being amidst the thorns and bigger trees."
The other dignitaries who were present on the occasion include Deputy Mayor Jaitunnabi Ashfaq Ansari, Zone Chairperson Varsha Thakre, Corporator Vishakha Maind, Corporators Sunil Agrawal, Prakash Totwani, President of Friends International Om Jajodiya, President of Institution of Engineers P Ke Kulkarni, Rupa Roy, Abhay Dixit, Meenatai Joshi, Seematai Lule, Narendra Ashtankar, Santosh Jain, Doifode, Sharma Madam and others.
The Garden Superintendent Nreashchandra Shrikhande, Garden Inspector Nagmote, Chorpagar, Deputy Engineer Mate welcomed the guests.