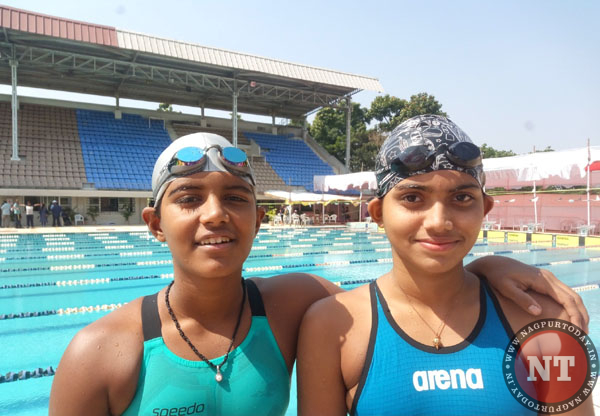 Nagpur: City two swimmers Rutuja Talegaonkar and Himani Phadke excelled at the 64th National School Swimming Championship by bagging silver and bronze medals. The championship was held at Dr Shyama Prasad Mukherjee Swimming Pool Complex, Talkatora Stadium, New Delhi, recently.
Rutuja Talegaonkar won two silver and two bronze medals while Himani Phadke bagged two silver medals. In the Under 17 Group, Himani, representing Maharashtra team, won her medals in 4X100 Metre Free Style and 4X100 Metre Medley Relay event. Rutuja proved her mettle by winning the silver medal in 400 Metre Individual Medley event by clocking 5:31 minutes. She also won silver medal in 4X100 Metre Medley Relay by completing the race in 4:16 minutes.
Rutuja won her bronze medals in 800 Metre Free Style by clocking 9:45 minutes and in 400 Metre Free Style event by covering the distance in 4:45 minutes. Rutuja is Class XII student of Dr Ambedkar College while Himani is studying in Class X of Sanjuba High School. Both the girls were trained by Sanjay Batwe who is member of Shark Aquatic Sporting Association and trainer at Maharashtra Kamgar Swimming Pool.
For their outstanding feat, Rutuja Talegaonakar and Himani Phadke were congratulated by Labour Welfare Commissioner Satish Dabhade and Manager Arun Kapse.