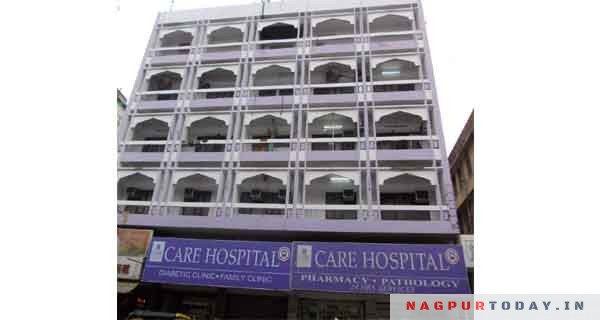 Nagpur: The city-based Care Hospital has found itself in troubled waters and facing heat for alleged negligence death of an elderly man.
The Editor of 'Yuva Career' Monal Thool in his complaint to Sitabuldi police claimed that the utter negligence by the Ramdaspeth-based Care Hospital led to the death of his father Arun Thool (72) recently. Acting on the complaint, police have started an in-depth investigation into the matter. The DCP Zone 2 has sent a letter to GMCH requesting a full medical enquiry in the case. Sitabuldi Police Inspector Atul Sabnis has also sought CCTV footage from the hospital. The Guardian Minister Dr Nitin Raut, who also received a memorandum from Monal Thool, has ordered formation of an Enquiry Committee in the GMCH for investigation.
Monal Thool in his complaint said that his father Arun Thool was admitted to Care Hospital on October 17, 2020 as he was finding it difficult to eat anything. After admission, the doctors at the hospital inserted a urinal catheter in the patient. Monal claimed that the catheter was inserted incorrectly. This wrongful insertion of catheter caused accumulation of blood in the urine bag. This fact was brought to the notice of concerned doctors but the doctors turned a blind eye. "When I spotted blood in the patient's diaper, I informed the doctors about this immediately. A doctor, subsequently, came and said that it seems dressing has been done. Blood was oozing continuously and my father was getting weaker and weaker. But still the doctors refused to take care of the patient. Moreover, despite having the facility, endoscopy was not done at all citing one excuse or another," Monal claimed.
Thool further alleged that the Care Hospital doctors including the Director Dr Varun Bhargava, Nephrologist Ashwinikumar Khandekar, Dr Minal Gupta, Dr Vipul Seta kept him in the dark over the treatment being given to his father Arun Thool. Finally, the patient passed away on October 28 night. "I had met my father in the ICU two hours before his death. At that time, my father had told me that he was demanding water since the past five hours but nobody gave water to him. Subsequently, I brought water from the hospital canteen and gave it to my father. Two hours later, my father passed away," Thool said in his complaint to Sitabuldi police, Dr Raut, NMC Commissioner, District Collector and others.