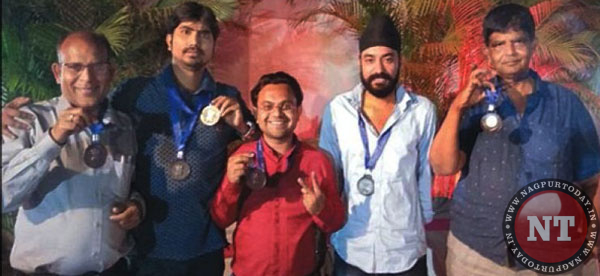 An almost complete fresh crop of top ranked players emerged in the singles, doubles and mixed doubles events as the
Under-15, Under-19 and Senior Woodball Championships concluded at the Rashtrasant Tukdoji Maharaj Nagpur University stadium in Ravi Nagar on Easter Sunday.
There were national winners and who had excelled in these events in earlier nationals, who did not get a look in even among the top three in this national, giving rise to a fresh crop of players in these events.Players like Dr.Prem Meena from Delhi, Kapil Shastri, Pooja Sahu from Chhattisgarh were but a few who have represented India who fit this description. The event provd to be a grand opportunity for Maharashtra's girls who excelled in the team event raising hopes of better performances in future nationals.
RESULTS: MEN: Singles: 1) Uttarkhand. 2) Anu; (Kerala). 3) Vipul (Haryana). 4) Ayush (Mah).Men'sDoubles: 1)VikashAbhishek (Vidarbha). 2)Dhyaneshwar-Jitendra (Mah). 3)Khemraj-Jitendra (HP).Mixed Doubles: 1) Ankur-Shruti (Gujarat). 2) Kapil-Pooja (Uttarakhand) and also AmarTejaswani(Mah).3) Sarwar-Kripa (Jharkhand). WOMEN: Singles: Rinku (Haryana). 2) Aloka (Mah). 3) Asmita (Bihar). Women's Doubles: 1) Rekha-Shilpa (Haryana). 2) Kajal-Sweety (Jharkhand). 3) Nazmi-Nahid (Assam).
JUNIORS: Girls singles: 1) Simran (Jharkhand) 2)Ishika (Haryana). 3) Sakshi(Mah).Girls Doubles: 1) Soni-Riya(Haryana). 2) Sina-Arya (Kerala). 3) TannuShivani (HP). Mixed Doubles: 1) Shubham-Ragini(Jharkhand). 2) ShanuSS-Sushannar(Kerala). 3)Rushikesh-Krushna (Mah). Boys singles: 1) Prem Deep (Bihar). 2) Aswini (Bihar). 3) Rahul (Kerala). Doubles: 1 ) S h ikhar – S hubham (Uttarkhand). 2)Prem DeepHarsh (Bihar).
SUB-JUNIORS: Boys Singles: 1) Malik (J&K). 2) Ashutosh (Bihar).3)Pragyan(Assam).Boys Doubles:1)Asim-Atharav(MahA0. 2) Parin-Eshan (HP). 3) Ayush-Utkarsha (Mah-B). Mixed Doubles: 1) ShirishDarshana (Mah-A). 2)RushirajDisha(Gujarat)3)Radhesh-Payal (Mah-A).