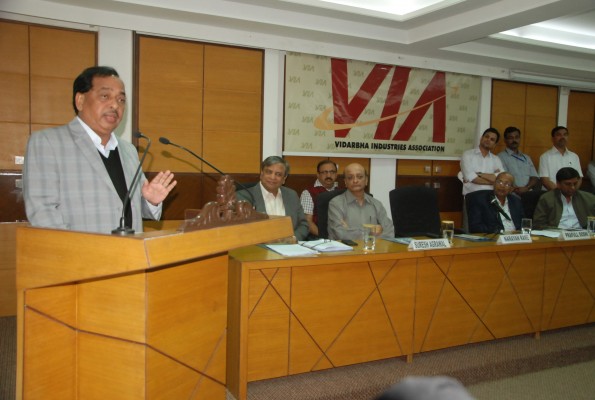 Nagpur News: Ports, employment and self-employment, industry minister of Maharashtra Narayan Rane held an interactive meeting with industrialists of Nagpur and Vidarbha at VIA hall and discussed the problems of industrialists which are adversely affecting the interests of industries and hampering the development of the industry in Vidarbha region.
He also discussed the problems hampering overall development in Maharshtra. VIA on this occasion submitted a memorandum of their demands to Narayan Rane.
The memorandum of demands included open access to power, relook at environmental clearance and land trasfer in MIDC, setting up large heavy engineering industry for Vidarbha, infrastructure project, food park, VAT refund and others.
VIA members and all other association which including BMA, MIA, KIA, Umred MIA, Federation Amravati All Industries Association, shared their problems, suggestions/proposal with the industry minister. The meeting was largely attended by all association members. At the outset, Narayan Rane, industry secretary, of Maharashtra Apurva Chandra and chief executive officer of MIDC Bhushan Gagrani were welcomed by VIA president Prafull Doshi.
Past president of VIA, Suresh Agrawal proposed a vote of thanks. Prominent members of VIA who were present on this occasion included immediate past president of VIA, Pravin Tapadia, Rohit Bajaj, Padmesh Gupta, vice-president Prashant Kumar Mohota, joint secretary Gaurav Sarda, treasurer Akash Agrawal, chairman- energy cell, R B Goenka, Sudhir Paliwal, Shelendra Manawat, Rakesh Surana & Anil Chandak.
Others from association present were president-MIDC Industries Association, Mayank Shukla, Hingna, president Butibori Industries Association Hemant Ambaselkar, and government officers.