City gears up for 'Ravan Dahan' at Kasturchand Park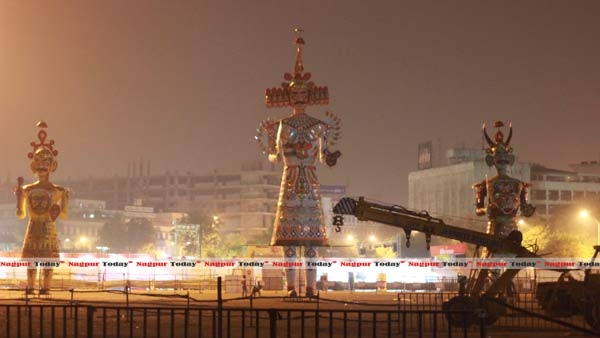 Nagpur: The Sanatan Sanstha which organizes the "Ravan Dahan" every year on Dussehra or Vijayadashmi without a break. Late in the night on October 20, 2015, the organizers of the event finished giving the final touches to the three effigies of Ravan, Meghnad and Kumbhakaran.
The Ten-Faced Demon Ravan took a lot of time in getting installed. The organizers heaved a sigh of relief when all the three effigies were in place. The services of a crane was used by the organizers to install the effigies.
The effigy of Ravana, his brothers Meghnad and Kumbhakaran the antagonists in the Hindu epic Ramayana is burnt on Vijayadashami, in India and in the city at Kasturchand Park Grounds. It is said that it is symbolization of triumph over evil (i.e. Ravana) by Rama.