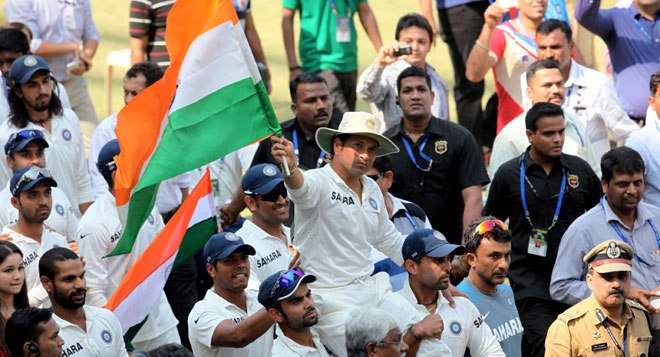 Nagpur News.
Never in the history of Indian cricket was witnessed such a melodramatic and high voltage emotional farewell to any of the cricketer. But Sachin Tendulkar is different and he deserves it from every angle you see. The announcement of Bharat Ratna for Sachin was perfectly timed as emotions and best wishes fly high in the air when the fans bid tearful farewell to their icon Sachin Tendulkar who will not be seen wielding the bat on cricket ground any more. Though Sachin has retired from cricket but he will live as the spirit, the inspiration and torchbearer for crores of his fans worldwide. On Saturday, as India beat West Indies in Test series at Mumbai's Wankhede Stadium, the joy of victory came as an added factor to the emotionally charged audience who with their moist eyes and numb feelings waved to Sachin one last time on 22 yards. As Sachin made the everlasting speech and thanked all in his lives, fans got speechless at times while they kept giving roaring applause for their icon's spoken words.
With the Sachin wave blowing fast through sentimental cricket fans, Nagpur Today quizzed some prominent names of the city over why Sachin Tendulkar is so phenomenal so great…?
Here's what the dignitaries expressed…
Hero of the Millennium
MLA Devendra Fadnavis puts Sachin as the hero of the millennium. He said, "Sachin has not only set standards in cricket but in every walk of life. He has never compromised with his moral values while on pitch as well as in his personal life during these 24 years of his career. In this era of match-fixing he has remained spotless and maintained his impeccable reputation. "We have seen many professional players but at certain point they all have compromised over some or the other issue. But Sachin is 100 percent pure gold," said Fadnavis.
Memories will Inspire
State Employee Guarantee Minister Dr. Nitin Raut said not only Sachin made cricket the phenomenon in India but across the globe. He has seen the changing times with him and lived every moment of the game, whether good or bad, with joy. "The winning rate of team India took upwards after the inclusion of Tendulkar in the team. Not only he kept the sports' spirit alive within his fellow cricketers but also instilled a feeling of brotherhood among them. We may not see him in action again but his memories will continue to inspire generations to come," he said.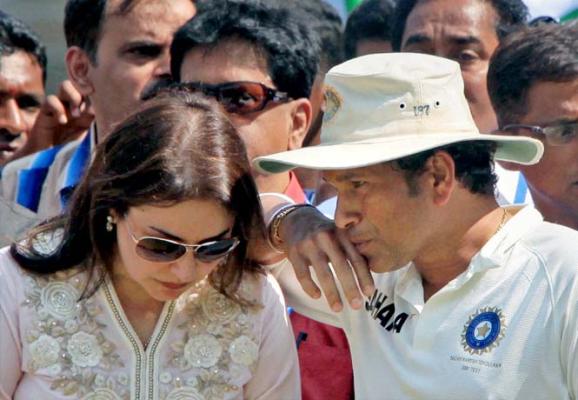 Sincerity Pays
Congress general secretary Anees Ahmed said the biggest quality Sachin possesses is his sincerity towards the game. Unlike him, many other cricketers were often seen falling prey to the situation and end up taking cricket casually. While most of the cricketers got carried away with the tempting advertisement offers, Sachin has managed to strike equilibrium and never let any offer fade his commitment towards cricket. "It's only because of his sincerity that he has performed so well on the field. We take pride in celebrating Sachin as he is from our state Maharashtra," Ahmed added.
Self-discipline's his Essence
Commissioner of Police KK Pathak recalled watching Sachin at Wankhede stadium and acknowledged his gentle play and true sportsmanship. "The field of cricket is tempting, though he maintained his decorum of self-discipline and conviction. This trait of him has placed him several notches higher than any other cricketer," Pathak said.
Cricket is his religion
Navneet Singh Tuli, CMD, Gurunanak Institutions, said, "I have seen playing Sachin live in many matches in Nagpur and what I found was his utmost dedication towards the game. Cricket is certainly his religion. He has never taken cricket as the source of commerce. Nor had he ever compromised with the quality of game with any lucrative advertisement offer. Long live the legend."
Some more Sachin…
Rajeev Chand, practicing Chartered Accountant viewed that right since the age of 16 to 40, Sachin has brought revolutionary change in the way Indians look at the cricket. "I believe he can still play more and come out with his power performance for some more years," he said
Finest Cricket, Finest Human Being
President of Nagpur Lok Sabha Youth Congress Sameer Meghe said, "I had the chance to meet Sachin Tendulkar when he came to Nagpur for a test match. It was half an hour meeting and also the moment that I could never forget till I breathe," Meghe said adding that not only he is one of the finest cricketers in the history of cricket but one of the finest human beings as well. "That is why Sachin is what he is today. I also remember watching Sachin in the sheer display of his power play at Sharjah tournament where Sachin delivered excellent innings," Meghe recalled.
Right decision at the right time
Dr. Ashish Deshmukh, Convenor, Vidarbha Joint Action Committee and president of Youth for Vidarbha, said, "For me Sachin is cricket and cricket is Sachin. He is the real ratna (gem) of our nation and deserves to be conferred Bharat Ratna. It's high time the government has finally announced the title for him. "I believe he is already a "ratna".  He has always taken the right decision at the right time and his retirement is the latest testimony of this fact. He has shown the path to be emulated by the next generation, irrespective of their fields," Deshmukh said.
Two and half decade of iconic performance
Ramtek MLA Ashish Jaiswal said, "Sachin Tendulkar has been consistent all through his career span ranging good 24 years. No other cricketer in the world has managed to play for such a long span and that too with superb delivery. There are many players who created many records but not a single matched his stature and managed to keep the spirit alive till two and a half decades in cricket. I have seen many live matches of him and this time I feel like meeting him. Now that he is retired, I hope he would be able to take out some time to meet me."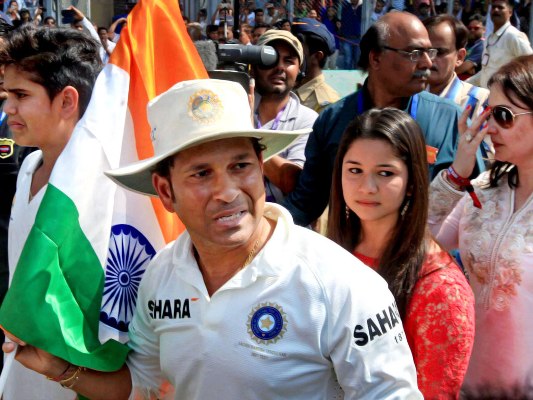 Emotional Powerplay : Excerpts of Sachin's speech
"All my friends. Settle down let me talk, I will get more and more emotional (crowd gets louder and louder as he composes himself). My life, between 22 yards for 24 years, it is hard to believe that that wonderful journey has come to an end, but I would like to take this opportunity to thank people who have played an important role in my life. Also, for the first time in my life I am carrying this list, to remember all the names in case I forget someone. I hope you understand. It's getting a little bit difficult to talk but I will manage."
To his father
The most important person in my life, and I have missed him a lot since 1999 when he passed away, my father. Without his guidance, I don't think I would have been standing here in front of you. He gave me freedom at the age of 11, and told me that [I should] chase my dreams, but make sure you do not find short cuts. The path might be difficult, but don't give up, and I have simply followed his instructions. Above all, he told me to be a nice human being, which I will continue to do and try my best. Every time I have done something special [and] showed my bat, it was [for] my father.
To the fans
The memories you have left with me will always be with me forever and ever, especially "Sachin, Sachin" which will reverberate in my ears till I stop breathing.
To his wife
The most beautiful thing happened to me when i met my wife Anjali. Those were special years. It will also continue that way. Anjali being a doctor, there was a beautiful career ahead of her. But she let me continue with cricket and took the responsibility of my family. Without her I wouldn't have been able to play cricket. Thanks for bearing with me and always staying by my side through the ups and downs, This is the best partnership I have had in my life.
To his mentor
On a lighter note, in the last 29 years, sir has never ever said 'well played' to me because he thought I would get complacent and I would stop working hard. Maybe he can push his luck and wish me now, well done on my career, because there are no more matches, sir, in my life. I will be witnessing cricket, and cricket will always stay in my heart, but you have had an immense contribution in my life, so thank you very much.
To his team mates
Knowing all of you guys, I know you will continue to serve the nation in the right spirit and right values. I believe we have been the lucky ones to be chosen by the Almighty to serve this sport. Each generation gets this opportunity to take care of this sport and serve it to the best of our ability. I have full faith in you to continue to serve the nation in the right spirit and to the best of your ability, to bring all the laurels to the country. All the very best.
Emotional end
I know my speech is getting a bit too long (crowd roars), but this is the last thing I want to say. I want to thank all the people here who have flown in from various parts of the world, and have supported me endlessly, whether I scored a 0 or a 100-plus. Your support was so dear to me and meant a lot to me. Whatever you have done for me.