Nagpur: The city police have put elaborate arrangements in place for peaceful and hassle-free immersion of Ganesh idols. Police have diverted traffic on many roads as well as imposed traffic restrictions on roads leading to various lakes and water bodies such as Futala Lake, Ambazari Lake, Gandhisagar,Naik Talao, Koradi Lake, Kalamna Khadan, Sakkardara Lake, Sonegaon Lake, Sanjay Gandhi Khadan and Mahadeo Ghat of Kamptee beginning from Monday (September 4). The arrangements will remain in force till midnight of September 7. The orders for the traffic arrangements have been promulgated by Joint Commissioner of Police Shivaji Bodkhe in exercise of the powers conferred on him under relevant provisions of Bombay Police Act.
For the peaceful and hassle-free immersion of Ganesh idols, 10 DCPs, 11 ACPs, 47 PIs, 140 APIs and PSIs and a posse of 4000 police personnel have been assigned to job of manning the rush of devotees and their vehicles across the city. In addition, one DCP (Traffic), 7 PIs, 45 APIs and PSIs and 500 traffic police personnel would be dotting the streets for monitoring the traffic arrangements on the day.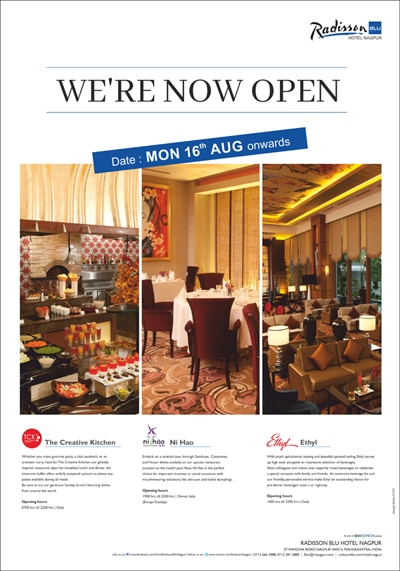 In all 100 CCTV cameras would keep watch on devotees and other people at lakes and water bodies including Futala, Ambazari, Sakkardara, Sonegaon, Gandhisagar,Naik Talao,Koradi Lake, Kalamna Khadan, Sakkardara Lake, Sonegaon Lake, Sanjay Gandhi Khadan. 13 CCTV cameras would be installed at Mahadeo Ghat in Kamptee.
Futala Lake being the centre-stage of immersion of Ganesh idols, all vehicles carrying idols of the deity for immersion at this lake from Lakadganj, Kotwali, Tehsil, Ajni, Ganeshpeth and other areas would pass via Subhash Road, Agyaram Devi, Cotton Market Square, Loha Pull, Manas Chowk, old Morris College T-point, RBI Square, Satkar Guest House, Liberty T-point, CK Naidu Square, Sadar Police Station Road, Japanese Garden Square, WCL Headquarters, Government Milk Scheme, and Telangkhedi Hanuman Temple. Vehicles carrying idols from Central Avenue, would pass via Ram Jhula (Railway Overbridge), Jaistambh, Shree Mohini Complex, LIC Square, Sadhu Vaswani Statue, Liberty T-point, C K Naidu Square, WCL Headquarters and would reach Telangkhedi Hanuman Mandir. Only vehicles carrying idols would be allowed up to Vayu Sena Nagar Road T-point for 'Visarjan' in Futala Lake. After immersion of idols, the empty vehicles would be diverted via Vayu Sena Nagar Gate, T V Tower, Seminaray Hills, rear gate of Raj Bhavan. Plying vehicles from Vayu Sena Nagar gate up to Futala Lake has been prohibited. Vehicles with idols coming from Variety Square, Law College Square, Ravi Nagar and from Wadi direction on Amaravti Road would be diverted from Bharat Nagar T-point towards the lake. These vehicles would be parked on Kalyaneshwar Mandir Road up to CP Club. After immersion, the empty vehicles would return from old Octroi Post, near University Campus, Ambazari Garden bypass. Vehicles of Sarvajanik Ganeshotsav Mandals coming from Manish Nagar area to Telangkhedi Lake would pass via Somalwada Square, Rajeev Nagar T-point, Sneha Nagar Square, Chhatrapati Square,Sawarkar Nagar Square, Aaath Rasta Square, Shankar Nagar Square and Ravi Nagar.
Vehicles carrying household idols coming to Gandhiasagar from Itwari area would pass via Agrasen Square, Chitnis Park, Gandhi Gate, Mahal, and Tilak Statue. After immersion of idols, the vehicles would be diverted through Tilak Statue, Maulana Natik Chowk, Tata Parsi School, old Jailkhana and Central Avenue. Plying of vehicles from Tilak Statue to Gandhi Gate and Chitnis Park would be prohibited. Similarly,the police have also made traffic arrangements for immersion of idols at other lakes.