Citizens, many big establishments participate in Earth Hour mission, save power for 1 hour

Nagpur News.
"Electricity saved is like electricity generated. If you save one unit of electricity today, you generate 10 units of electricity tomorrow. Now-a-days, use of energy has been increasing manifold with population explosion and enormous development. Water and coal are the main resources that are being used for generation of electricity. But in the near future, both the resources would be exhausted. Therefore, it has become necessary to save energy. Citizens should avoid use of unnecessary electricity and electricity accessories in order to save energy and protect the environment," said NMC Commissioner Shyam Wardhane. He was speaking at a function organized by NMC in Eternity Mall at 8.30 on Saturday (March 29) to mark Earth Hour.
Earth Hour is a worldwide movement for organized by the World Wide Fund for Nature (WWF). Earth Hour engages a massive mainstream community on a broad range of environmental issues. It was famously started as a lights-off event in Sydney, Australia in 2007. Since then it has grown to engage more than 7000 cities and towns worldwide, and the one-hour event continues to remain the key driver of the now larger movement. The event is held worldwide encouraging individuals, communities, households and businesses to turn off their non-essential lights for one hour as a symbol for their commitment to the planet Earth.
The Earth Hour programme was organized jointly by Green Vigil Foundation, All India Institute of Local Self Government, Vasundhara Education and Welfare Association, Dr Khapekar Sindhu Mahavidyalaya on the auspices of NMC. Citizens and big establishments participated in the Earth Hour mission in large numbers in all the 10 Zones of NMC and subsequently kept the unnecessary lights and accessories off for one hour i.e. from 8.30 pm to 9.30 pm. The big establishments and the areas that observed Earth Hour include Hotel Ashoka, Aath Rasta Chowk, Hotel Shruti, Surendra Nagar, Petrol Pumps, Chhatrapati Square, Ring Road, Nagpur Central Grand New Mall Ramdaspeth, Tukdoji Square to Manewada Square, Medical Square to Krida Chowk, Medical Square to Ashoka Square, Empress Mall, Gandhisagar, Big Bazzar Panchsheel Square, Jagnade Chowk to Bhandeplot Chowk, Kelibag Road Mahal to Tilak Statue, Big Bazaar Inox Mall (Central Avenue), Jaswant Tuli Mall Indora, Indora Square to Kamal Chowk, Poonam Chambers and other establishments and areas participated in Earth Hour mission by keeping lights and accessories off from 8.30 pm to 9.30 pm.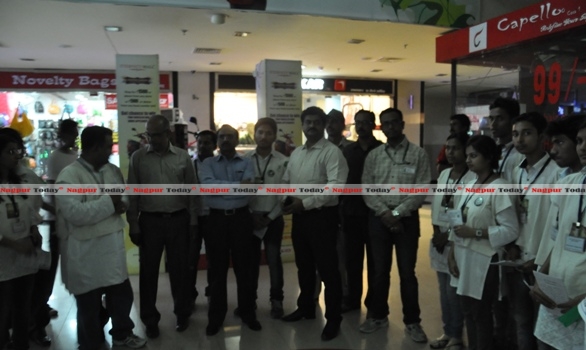 Others who were present at NMC's programme in Eternity Mall Sitabuldi include Executive Engineer (Electricity) Sanjay Jaiswal, Eternity Mall's General Manager Ashish Barai, Green Vigil Foundation's Kaustubh Chatterjee, Assistant Engineer (Electricity) Salim Iqbal, A M Mankar, large number of Green Vigil Foundation volunteers and others. NMC Commissioner Shyam Wardhane thereafter visited Nagpur Central Grand New Mall Ramdaspeth and inspected Earth Hour mission there.