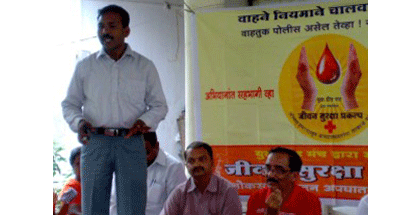 Nagpur news: When an accident takes place in any part of Nagpur city, one person can always be counted upon to help the injured- Rajiv Wagh. Rajiv has started an organization called Jivan Suraksha Prakalp, to aid the victimsof accidents and rush them to hospital. Rajiv and his coordinators have saved 560 lives in the city till date.
Rajive started his work alone, but around 300 Nagpurians are with him today.  The idea for this initiative came to him in the year 2002-03, when he noticed an accident on Trimurti Nagar Ring Road daily. Rajiv wanted to do something for them. One day his friend was badly injured while running for manja. The manja made a deep cut on his leg, and blood flowed heavily. It was then that time he decided to help people. He began his work hesitantly, but today he and his coordinators are coming forward confidently to save lives. Rajiv approached to owners of pan kiosks and tea stalls, garage men and auto rickshaw drivers to be his volunteers, and asked them to rush the injured to the hospital for treatment, upon seeing any accident on the road. He made contacts with many doctors, policemen and lawyers to help the injured and avoid problems them.
As word about his work started to spread, many school and colleges began approaching him. Schools and colleges now want their students to participate in his humanitarian efforts. Once in a while, blood donation camps are also organized by Jivan Suraksha Prakalp. Rajiv is now planning to make documentary explaining the common driving mistakes that lead to road accidents. He wants to use photographs of such incidents to spread awareness in the city.
Case 1: A beggar was injured nn Hingna MIDC road. No one came forward to help him. One of Rajiv's volunteers came and took that beggar to the hospital. After the treatment, that beggar is back begging on the streets, but grateful for the help that he received in need.
Case 2: Two youngsters were grievously injured near CRPF camp. A passing Jivan Suraksha Prakalp volunteer saw them and took them to hospital. The volunteer had to argue with the doctor, who had initially refused to treat the duo. Both victims are completely healthy today.