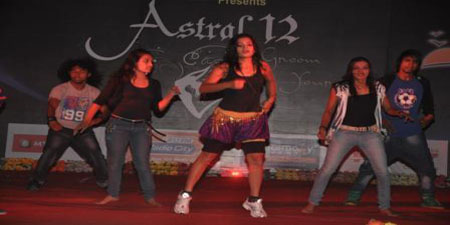 Nagpur College News : Another inter-college event organized by CENTRAL INSTITUTE OF BUSINESS MANAGEMENT RESEARCH AND DEVELOPMENT (C.I.B.M.R.D) – Astral started on 5th October and will end on 9th October 2012. All the competitions took place at their own campus. The semi-finals took place yesterday at Deshpande Hall, and the finals will also take place today here itself. Usually this event was for MBA, BBA, BCCA, students but the new director of the college gave challenge to her MBA students by expanding the level of the event and from MBA increasing the level to engineering eight days back. There was all kind of activities that took place. And for the semi-finals DJ Gaurav was present to make the crowd dance on his beats.
For dance 18 participants have qualified for singles, 2 for duet, and 5 for group performances. For the first time there were 15 entries for fashion show. It was a cut throat competition. But the panel of judges helped a lot to select the gems. This event was judged by  Madhuri Pandey, Shraddha Gharote, Ajay Tawekar (faculty of CIBMRD). Singing was judged by  Jude Desuja, Asim Partey (faculty).  Fashion Show was judged by Mrunali Rotel and Siddharth from harmony for dance.
The events which took place are as follows:
5th of October: singing, striker, chess, click your imagination, logo design, paper presentation, quiz
6th of October: search and rectify, Sudoku, lan gaming, sales promotion, best from waste, business plan, antakshari, fastest finger first.
7th October: face of astral, trick to sale, roadies, and sandal.
8th October – antakshari, face of astral, crack the stage, fashioniesta.
9th of October – quiz sales promotion, search for hidden rhythm, crack the stage, and fashioniesta.
The students of Nagpur are still there at the Deshpande Hall since 10 am, participating and proving themselves. By the end of the day we will find out how successfully C.I.B.M.A.R.D students proved their management skills.