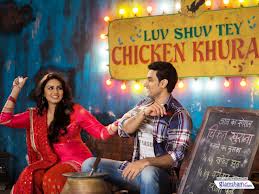 Banner
• UTV Spot Boy
• AKFPL Production
• Jar Pictures
Status
• Released
• 2 Nov 2012
Genre
• Comedy
Producer
• Anurag Kashyap
• Ronnie Screwvala
• Siddharth Roy Kapur
Star Cast
• Kunal Kapoor…. Omi Khurana
• Huma Qureshi…. Harman
• Rajesh Sharma…. Titu Mama
• Vipin Sharma…. Kehar Singh
• Vinod Nagpal…. Daarji
• Dolly Ahluwalia…. Bua Ji
• Rahul Bagga…. Jeet
Nagpur Today Movie Review -Anurag Kashyap has been one of Hindi cinema's most prolific producers lately. Apart from releasing a bunch of films in theatres and showing some others at international festivals in 2012, his banner AFKPL has a slate of films lined up for next year. But while the filmmaker and his team continues to give talented filmmakers a platform to tell new stories, in co-productions mostly, it's impossible for any production house to keep everyone happy all the time.
Luv Shuv Tey Chicken Khurana-It is a Pure Punjab you have rarely seen in Hindi films. The men are not uncouth bigots, but mostly listless, lazy, sentimental lotus-eaters. The wide angle encompasses dusty roads and decrepit dhabas, not just yellow fields. Bhangra beats aren't the only aural punctuator to the story. Sameer Sharma's Luv Shuv Tey Chicken Khurana, sharply written by Sumit Batheja, with a close understanding of this small and robust Punjabi milieu, is a comedy about food, love and family ties.
It's the kind of film people tell their friends they ought to see, the kind that can only have sweet, rounded endings. With characters at once quirky and recognizable, Luv Shuv Tey… is a joyous celebration of a community and its love for food and family.
Omi (Kunal Kapoor) in London, alarmingly hunted down by a petty goon (Munish Makhija) and his outlandish flunkies, demanding the return of the £50,000 (around Rs.43.5 lakh) that Omi borrowed from him while struggling to set up a business.
After a threat to his life, Omi's only solution is to return to his village in Punjab, where his grandfather, whom everyone calls daarji (Vinod Nagpal), runs a dhaba called Chicken Khurana, named after its widely popular signature dish. The recipe for Chicken Khurana isdaarji's secret.
Omi arrives at the sprawling and run-down family home in an Ambassador taxi, only to find it deserted. A while later, the family, which consists of his paternal uncle and aunt, their son Jeet (Rahul Bagga), and the grandfather, in the throes of age-induced dementia, returns from hospital, relieved that the old man can be treated at home.
The other resident in this family is Titu mama(Rajesh Sharma), a laggard stuck in a time warp whom the family has embraced as their own. Omi, an orphan who was adopted by this family, stole money from his grandfather and, against their wishes, left for London to change his fortunes. Upon his return, Omi also reconnects with Harman (Huma Qureshi), a feisty local doctor and his childhood sweetheart, now engaged to Jeet.
Sharma moves deftly between the strands that tie all these characters and yet manages a collective, cohesive character to the family. Their concerns are often petty and betrayals common, but a sense of humour keeps this oddball bunch afloat. We laugh with them; the Punjabi humour never becomes a jarring travesty.
The combination of a good story and its nimble execution work along with some terrific performances. Kapoor is not the cynosure, but he pulls off the silliness and sensitivity of Omi's character capably. Qureshi, who plays the angry young heroine with a big heart, last appeared in Gangs of Wasseypur. It was a promising debut, and her follow-up is bigger, and more confident.
Rajesh Sharma makes the pitiable and laughable Titu mama memorable. Almost all the characters in the film, including Omi and Harman, whose seething romance is the axis of the story, verge on the absurd at various points. But in the end, normalcy triumphs—in turn, sending Luv Shuv Tey… to the realm of feel-good Bollywood.
Sharma's film is part of an industry saturated in Punjabi gloss. Every part of India has adopted thesangeet and the ghagra-choli as a part of weddings. This is refreshingly pared-down Punjabiyat, without any aspirational value. It just gives you a few genuine laughs.
Luv Shuv Tey Chicken Khurana releases in theatres on Today.
Our Ratings-

Show Timings  in Nagpur 
Cinemax:
Eternity Mall :
 11:00 AM , 04.30 PM  , 10:00 PM
BIG Cinemas:
INOX:
Poonam Mall, Wardhaman Nagar :
 09.30 AM , 02:30 PM , 03:00 PM, 10:15 PM
Jaswant Tuli Mall, Kamptee Road :
10:00 AM ,  05:30 PM  , 10:30 PM.
PVR:  
9:20 AM, 1.00 PM, 5:40 PM, 7:40 PM, 10.20PM
Suhani Vanjani