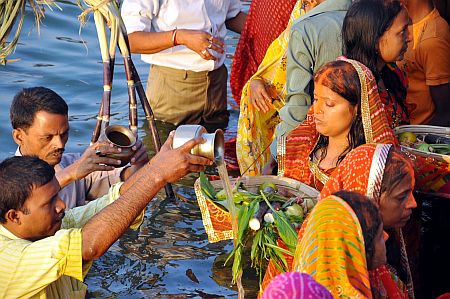 Nagpur News: Beginning Friday, over one lakh expected devotees in Nagpur will celebrate Chhath pooja across the city. Celebrated mainly in Bihar and eastern Uttar Pradesh, the festival has also found a place in Nagpur owing to the large number of people from Bihar.
Devotees will celebrate Chhath pooja along Ambazari lake on Friday and Saturday. The ritual is observed to thank and worship Lord Surya on the sixth day of Kartik Shukla Paksh (sixth day of the Hindu month of Kartik). Umakant Agnihotri the president of uttar bhartiya sabha informed that special pooja ghats have been prepared for the devotees which will be provided free of cost.
The members of Uttar Bhartiya Sabha (Vidarbha) had organized a Bhumi Pujan at Ambazari lake for the Chath Pooja recently. During the ceremony pandit Ambarish Sharma pwerformed all rituals to invoke the deities.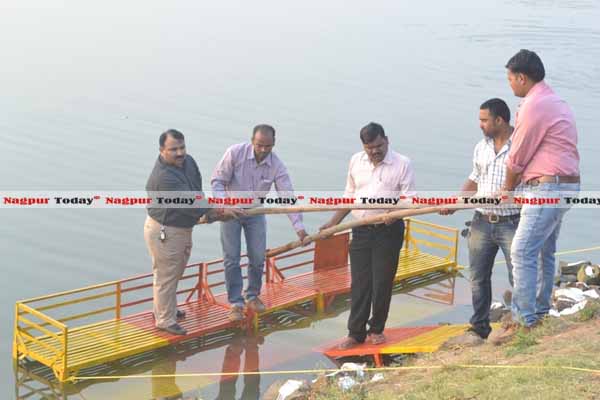 The preparations of of Chath Pooja are being taken care of by Jagdish Mandal from Butibori, Pravin Singh from Vadi, Suresh Yadav from Kanhan, Arjun Mehta from Umred, Shankar Bihari Chairasia from Saunsar, Shivbahadur Singh and MM Sharma. Prominently present were Ramshankar Pandeya, Vijay Tiwari, Vivek Sharma, TP Tiwari, Vijay Singh, Vivek Pande, Nadeem Akhtar, Ramaresh Mishra, Neetu Satendra Mandal, Jagrath Chaube, Ramavtar Singh, Tara Chaudhari, Sharmila Upadhyay, Ashok Mishra, Chandrakumar Saahu, HN Titre, Ashok Tripathi, Rakesh Singh, Ramsakha Shukla, Vrijesh Pande, Dinesh Mishra, KN Dube, Thakur Vijay Singh, Manoj Soni, Sanjay Garg, Kru[pashankar Gupta, Ratan Barua, Ashish Dube and Omprakash Tripathi.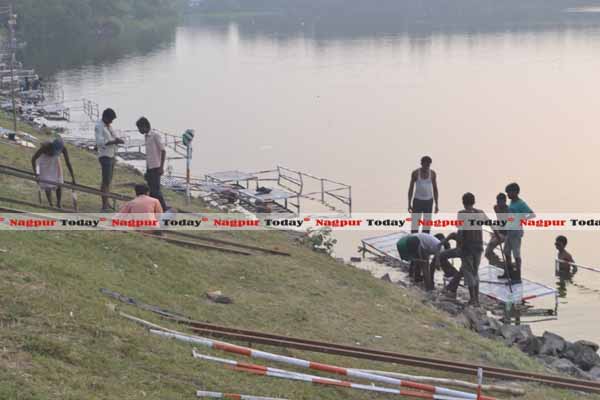 All about Chhath Puja
Chhath Puja is celebrated twice a year for four days each. The one during summers is called Chaiti Chhath while the second, known as Kartik Chhath, is celebrated in winter. The ongoing Kartik Chhath is the more popular one. During this festival the Sun God, Surya, is worshiped and thanked during the Chhath Puja to promote the well-being, prosperity and progress of families and individuals.
Chhath is celebrated six days after Diwali. It is dedicated to the Sun god, and is one of Bihar's most popular festivals. It is also celebrated with great enthusiasm in Jharkhand and Uttar Pradesh.
On the first day of the puja devotees bathe early in the morning in the holy water of Ganga and also bring home the sacred water to prepare the prasad. They take only one meal known as kaddu-bhat which is cooked by using bronze or soil utensils and mango wood over the soil stove.
This year millions of devotees, particularly women, took a holy dip in rivers, ponds and other water bodies.
"Chhath formally began with age-old 'nahai-khai', a ritualistic bath before preparing a traditional meal of boiled rice and pumpkin," said devotee Nirmala Devi.
She is a 'varti' – one who performs the Chhath prayers and follows age-old rituals associated with it.
Sarita Devi, another varti, said they used only dry wood from mango trees and bamboo baskets for cooking.
After nahai khai, another ritual 'kharna' is observed when 'Rasiao-kheer' will be cooked and distributed among neighbours, friends and relatives. During the festival, married women observe a fast for 36 hours and devotees traditionally offer wheat, milk, sugarcane, bananas and coconuts to the sun.