Nagpur News.
Can you think of having a bicycle ride from south to north of India, just to support your leader at the Centre? Most of us would discard the idea in the first place but not this young couple from Chennai, who has planned to cycle all the way from their native place to the power centric city of New Delhi. Their mission is as simple as that – To campaign for Rahul Gandhi across the nation and seek votes for the young Congress leader through their placard fixed to their bicycle which appeals to vote for Rahul. It asks the onlookers to vote for Congress to enable Rahul Gandhi to become the next Prime Minister of India.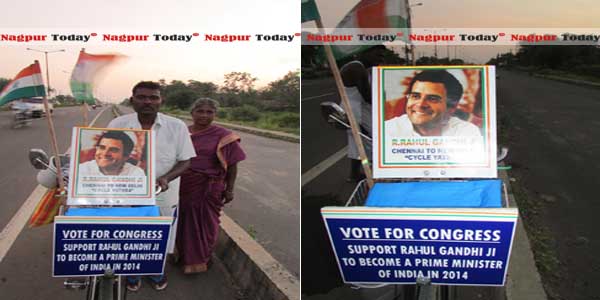 Karuppiah and his wife Karuppiah Chitra, in their late thirties has reached Nagpur on Monday. Both were spotted near Jamtha. Karuppiah hails from Theni parliamentary constituency in the state of Tamil Nadu. Before they set out for this adventurous cycle ride, the couple had met their area representative J.M. Haroon, Member of Parliament from Theni parliamentary constituency.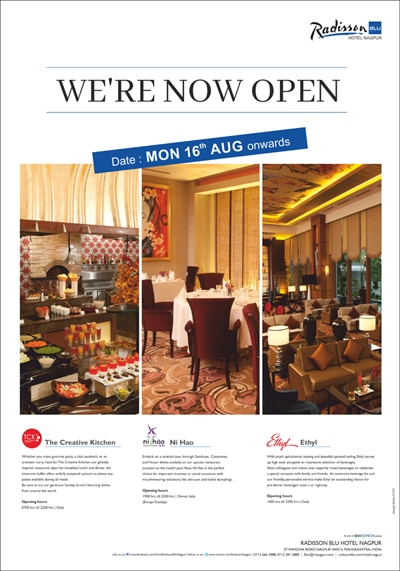 The couple also showed Haroon's letter extending wishes to them. The letter reads, "To propagate the achievements and goals of UPA government under the able guidance of UPA chairperson Sonia Gandhi and AICC vice-president Rahul Gandhi, this dedicated Congress couple have undertaken cycle yatra."
The bicycle is laden with all the necessary stuff enough for Karuppiah couple to do away with their requirements. The articles packed at the cycle's carrier include cooking material and some grocery while at the front is hanging the bucket.
When asked about his experience till this juncture of his journey, Karuppiah said, "We ride most of the time while at times we also carry cycle through walking. We want Rahulji to become the prime minister of India."