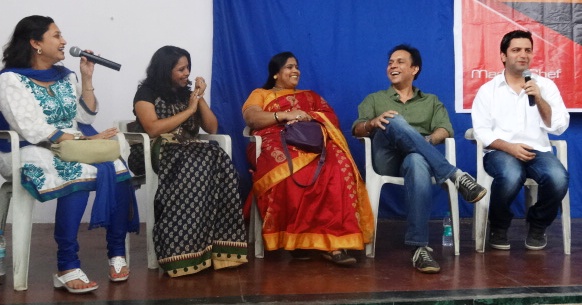 Nagpur Today : Today 11 Dec, 2011 Chef Kunal Kapoor along with the very popular Tushar Dalvi & Suchitra Bandekar enthralled aspiring Chefs from Vadodara at Master Chef India Season 3 Auditions. The show's season 3 auditions were conducted today on December 11th, 2012 at Sugandha Sabagrih, Opp Children's Traffic Park, Dharampeth, Nagpur.
Chef Kunal Kapoor along with Tushar Dalvi( Satyajeet Bhonsle), Suchitra Bhandekar( Sumitra Devi) from Star Plus, Mujse Kuch Kehti….Yeh Khamoshiya and Daya from Ambat Goad and supported contestants enthusiastically and also offered a lot of advice and guidance. They not only encouraged Chefs but also shared with them the power of dreams. Kunal Kapoor all the participants present there, to follow their heart and believe in their talent – a perfect recipe for a successful career.
After two successful runs, Master Chef India is back on our television screens. Yes, gear up to welcome the third season of the popular cooking show on STAR Plus from Nagpur only. Baanaiye apne ghar ki pehchaan ko desh ki shaan!
The judges for Master Chef India 3 will be Sanjeev Kapoor, Vikas Khanna and Kunal Kapoor. While the Michellen Starred Chef Vikas and charismatic Chef Kunal are back to keep us glued to the TV screens, Chef Sanjeev Kapoor's entry too adds to the excitement.
Today it was a bright day for the people of Nagpur who can came out in huge numbers of audition for the coveted title of Masters Chef India Season 3, With Lots of enthusiasm and amazing dishes that were displayed, the people of Nagpur left no stone unturned in putting their best meal forward.
Nagpur showed their true spirit and brought out delicious dishes with true Desi flavor in the auditions.
The audition was filled with lots of fun & frolic , games and exiting prizes. While the city got a chance to present their cooking skills.  It was an excellent opportunity given to the local people to show their talent on national level.
So prepare yourself as this season Master Chef India says  "Banaiye apne ghar ki pehchaan ko desh ki shaan"
Get ready to watch Master Chef India 3, coming soon STAR Plus  !!!!
By Suhani Vanjani