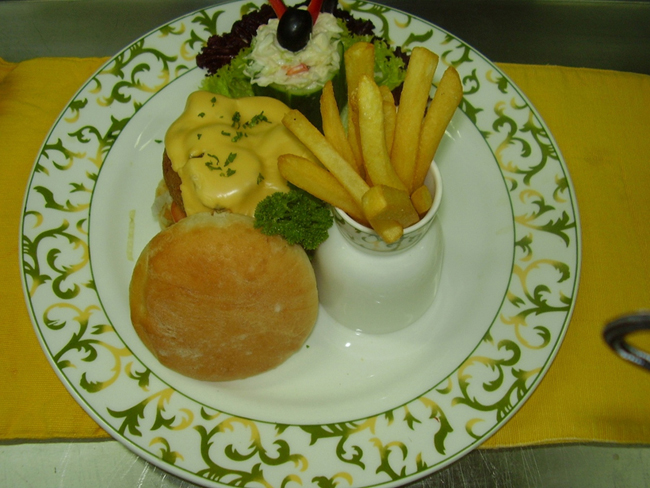 Makes 8 burgers
4 tablespoons vegetable oil
1 medium onion, thinly sliced
1 teaspoon minced garlic
1 cup drained boiled shredded beets
1/2 cup grated yellow squash
1/2 cup grated zucchini
1 cup grated carrots
1/2 cup grated turnip
1 tablespoon chopped fresh corriander
1 tablespoon chopped fresh parsley
1 1/3 cups rolled oats or dry breadcrumbs
10-12n os of tomato slices
10 nos of sliced cucumbers
8 slices of cheese
8 large lettuce leaves
1 1/2 cups cooked mashed potatoes (not too moist)
8 hamburger buns
Ketchup and mustard (optional)
In a large saute pan over medium-high heat, warm 2 tablespoons of
the vegetable oil until hot. Add the onion and garlic and saute for
about 5 minutes, or until the onion is translucent
Stir in the vegetables and herbs. Cook for 5 minutes.
Add the rolled oats, stirring thoroughly. Check for seasoning,
adding salt and pepper, to taste.
Transfer the mixture to a large bowl, add the mashed potatoes, and
mix together thoroughly. Form the mixture into 8 patties.
In a large skillet over medium-high heat, heat the remaining 2
tablespoons of oil until it is hot. Fry the patties for about 3
minutes on each side, or until the burgers develop a crust.
Arrange the lettuce leaves on the slit burger buns after applying some butter
Place the fried patties on top of the leaves
Place some tomato and cucucmber slices on top
Drizzle tomato ketchup and mustard
Cover with cheese slices and heat in an oven to melt the cheese
Serve covered with the bun or serve open as you like along with French fries
: Chef Khosla