Nagpur News.
The lure of the cheapest groceries, fashion wears and other accessories led the sea of people to Big Bazaar mega sale at all its stores on Sunday, but little did the customers know they would end up paying more than what they anticipated after choking through the air-less sections of the stores and drawing their favorite picks at the billing counters. The 'buy one get one free' offer turned out to be a big disappointment for the customers once they received bill at the cash counters.
Big Bazaar's initiative title "Sabse Saste 3 Din" and "Sirf 3 Din Milega Poora Paisa Wasool" which has been going on for the last three days turned out to be big crowd puller but equally went on to become a sufferer. There was literally no ventilation across all the sections at Big Bazaar's Ramdaspeth store on all its floors. This left the people not only perspiring but also left then gasping for air. A 22 girl reportedly suffocated and fell unconscious following the lack of oxygen levels in the Big Bazaar's inner sections. She was rushed to the nearby Care hospital where the doctors reported sharp fall in her blood pressure due to suffocation resulting from lack of oxygen.
Gross mismanagement everywhere…
On Sunday hordes of people from all walks of life visited the Big Bazaar stores located at Landmark building in Ramdaspeth and also at Empress Mall near Shukrawari lake and Poonam Mall in Wardhaman Nagar. As the day neared its end, the rush multiplied. Gross mismanagement by the Big Bazaar's Management caused unnecessary delays in the counters and at various spots. The Security managements and arrangements caused further chaos. One cannot exit from the entry which forced one to traverse the entire floor and come to the exit.
Lack of enough oxygen because of poor ventilation caused a 22-year-old girl to suffocate. However she was rushed to Care Hospital very near to the Big Bazaar premises where the attending doctors carefully examined her and diagnosed that her Blood Pressure dipped badly because of suffocation. She was retained in the hospital for the night for observation.
'Buy One Get One Free' – Customers trapped into trick
In most of the clothing sections for men and women, the placard reads out 'Buy One Get one free' but the customers were quite unaware of the trick beneath and by the time they realized that they were fooled they had already footed the bill. Actually the trick goes like this. For instance, a customer picked up a kurti for Rs 999 under buy one get one free offer and clubbed it with another kurti of same price into his cart as free piece. She picked up another kurti for Rs 399 under the same offer and picked up another of same price free. She anticipated that she would be charged Rs 999 and Rs 399 which totals to Rs 1398 and the remaining two would come free. But to her dismay she was charged Rs 999 each and rest of the two priced at Rs 399 was put under free. She had to pay Rs 1998 for her purchase. When she inquired about the difference of Rs 600 that she had to pay more despite being one free on one, she was told that the system takes higher price into account. She was also told that she would have saved Rs 600 had she got it billed separately i.e. the set of kurtis priced at Rs 999 in one bill and another set of Rs 399 each in another bill. However, the rush was so heavy that no customer realized this trick nor the person at the billing counters took pain to let them know. Sources later revealed that this was the actual trick behind 'Buy one get one free' scheme.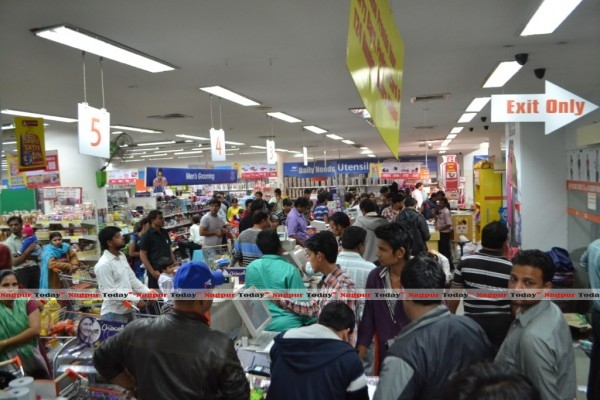 No authorities available??
When Nagpur Today tried to contact the authorities, no one was available for comment on the issue and said that only the officials looking after the administration will arrive at 11 am on Monday the January 27, 2014.
Parking woes spell big trouble
Many two-wheeler drivers had a difficult time trying to find a suitable place to park their vehicle. They were afraid of the vehicle being picked up by the traffic department and they may have to face many other compounded problems.
When any such Malls hosts a Mega Sale, they should also make suitable arrangements to ensure smooth passage in the store, proper ventilation (with everyone breathing out Carbon Dioxide, Oxygen level gets depleted), proper parking facility, trained bill counter executives whop perform or function with due speed in making the bills and completing the transactions.
However the managements of most business premises and malls are interested only in the revenue and not bothered about the other parameters they have to ensure for the customers and their vehicle.