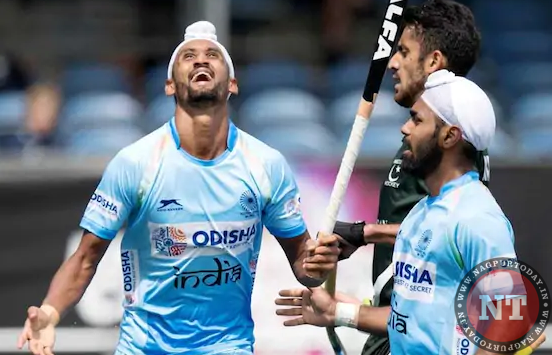 India thrashed arch-rivals Pakistan 4-0 in the opening match of the Champions Trophy hockey tournament at Breda in Netherlands on Saturday. Ramandeep Singh, Dilpreet Singh, Mandeep Singh and Lalit Upadhyay scored for the men in blue who completely dominated their opponents throughout the match.
Three goals in the last ten minutes helped India finish off things in style in their opening match of the tournament. Ramandeep Singh got India going with a 25th-minute strike. After Ramandeep's opener, both teams struggled to find the net in the second quarter although both teams penetrated each other circles on multiple occasions.
The third quarter too saw no goals with brilliant defense from both teams. Pakistan were awarded their first penalty corner in the third quarter but Amit came in with brilliant block. Pakistan put India under pressure in the third quarter but the Indian defence stood strong.
In the fourth quarter, both teams upped their attack but India got the better off Pakistan. Dilpreet Singh provided India with a second goal in the 54th minute.
Pakistan in an attempt to score, removed their goalkeeper and brought on an attacking player. The plan backfired for pakistan as an open Mandeep Singh's sliding deflection earned India their third goal in the 57th minute.
Just before the final whistle Lalit Upadhyay's strike in the 59th minute sealed India's win against Pakistan in the Champions Trophy opener.
India will now take on Argentina in their second match on Sunday.