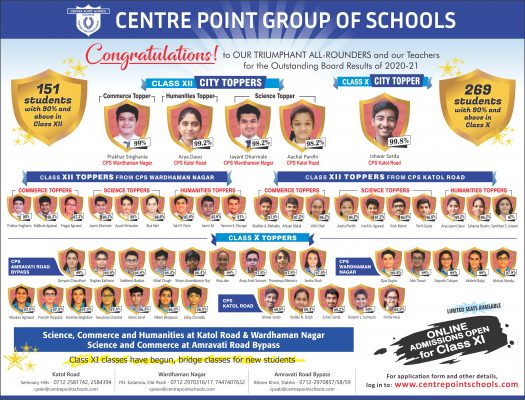 Nagpur: The students of Centre Point Group of Schools continued their brilliant performance in the CBSE Class X and XII examination.
Centre Point School (CPS) registered comprehensive 100% result with 151 students scored more than 90% in Class XII examinations and 269 students securing more than 90% marks in Class X, continuing its legacy of achieving excellence and creating higher benchmark year on year in the CBSE Class X and XII results.
Setting another milestone, a total of five students from Centre Point School emerged as city toppers in the Class X and XII examination.
Arya Daoo (CPS Katol) topped Humanities in Second Capital of the State with 99.2%. Prakhar Singhania (CPS Wardhaman Nagar) is emerged as Nagpur Commerce topper by securing 99%.
Jayant Dharmale (CPS Wardhaman Nagar) and Aanchal Pardhi (CPS Katol) shared title of Science topper in the city by securing 98.2% marks.
CPS administration has congratulated the students and teachers.
"We are extremely happy with the performance of each of our students and facility members, who had consistently worked hard and raised their own
bar of excellence. We thank all the teachers for their sincerity and all the parents for having reposed their faith in CPS during the pandemic," conveyed CPS administration.