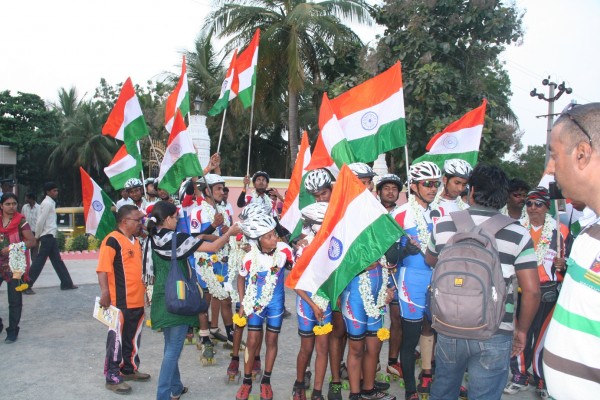 Nagpur Today : Yesterday, The rally moved on to Anantpur from Bangalore on its 4th day of its journey from Kanyakumari to Nagpur at 8-30 am in morning from Rashtraotthan Samiti bangalore.
The rally started from Bangalore Rashtrotthan Samiti  in presence of Shri Natraj, Shri Chandrasekhar Bhandari, Shri K.S. Nagraj, Shri nagbhushan, Shri Ravinarayan, and other respected citizen of Bangalore.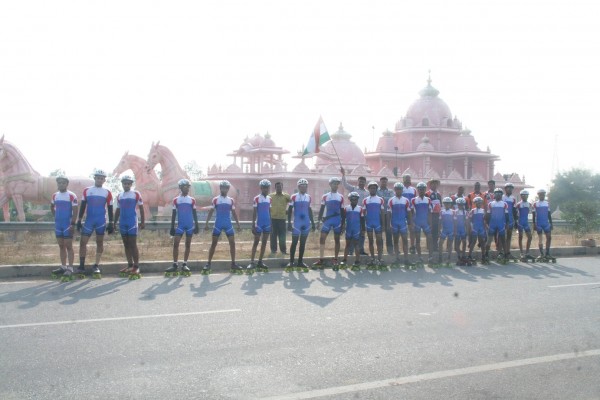 The rally took 90 mins to cross the city of bangluru due to heavy traffic in the city.  On the way to anantpur at village Chendur, citizen welcomed rally, with flowers and Aarti by Shri Shakarappa , Shri K. Ravindra , Shri  SB Nag Nathan and many more citizen , moving ahead at Daduluru other citizens also garland the rally and took aarti of the skaters.
The rally reached Anantpur at 7-30 pm, the rally completed its 900 kms path. The night stay arrangements were made at shrikrishna function hall, hospital road Anantpur.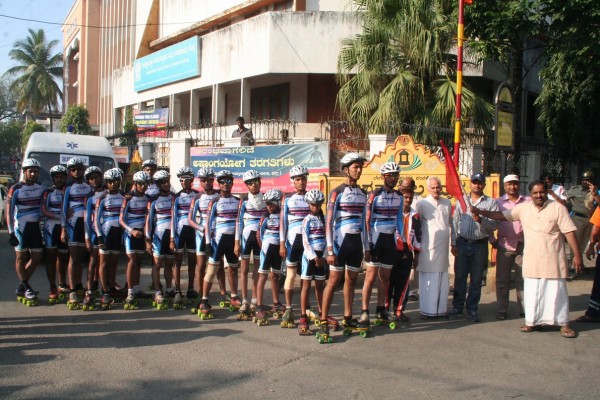 Today , the rally started from Anantpur at 8 am on its 5th day of journey of 141 kms to Kurnool. The eminent peoples of anantpur flagged of the the rally. Dignitaries from Ramakrishna Seva Samiti, Dr. Nag Trishul Pani joint convener Rayalsimha region, Shri Shridhar Murti, Shri T.Chandrashekar, Venu Gopal, Shri Ramesh Babu were present.
On the way on express high way grand welcome was given to the rally at cattamanchi ramlinga reddy school, by shri ramkrishna seva samiti janardhan reddy, hemant kumar shri sudhakar.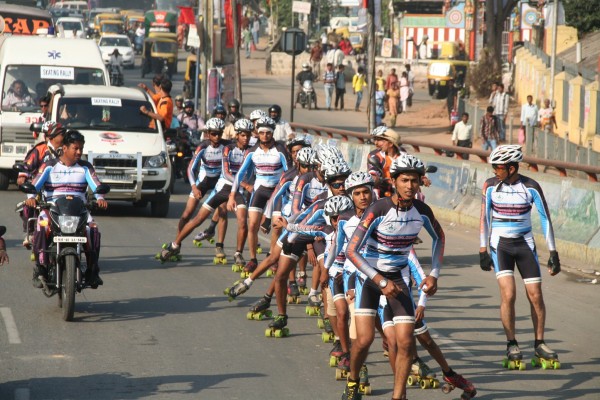 The rally moved on the road of Kurnool and stopped at Gandhi statue, The collector of Kurnool, shri sudharshan reddy welcomed the rally.
All the team member's were garland , after that all the people garland the Gandhi statue,then the rally moved to Swami Vivekananda statue, team captain gajendra Bansod garland the statue of Swamijis, the rally covered a total of 1041 km till now.
Yesterday,Night halt arrangement was made at Shri Ramakrishna Seva Samiti at Kurnool. Tomorrow the rally will move to Hyderabad on its 6th day of journey of 249 km to Hyderabad