Central Railway wins the "7-day war," brings the normalcy in train traffic hit by rain fury

"From tomorrow, the normal activities could be seen at the Nagpur Railway Station as either no trains will be cancelled or diverted or short-terminated or rescheduled. Trains originating from Nagpur will run on scheduled time and scheduled routes."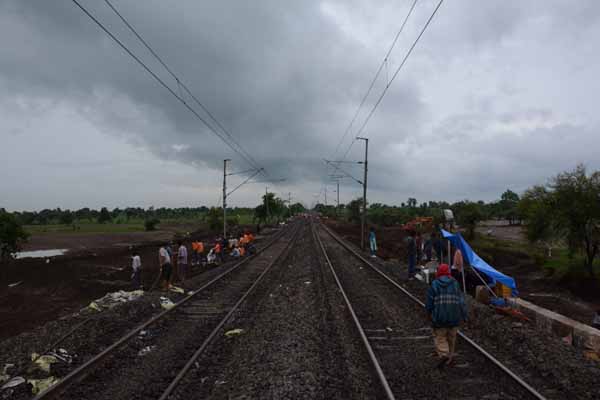 Nagpur News: The Nagpur Division of Central Railway has finally announced normalcy in train traffic after a 7-day "war" over the restoration of Up and Down rail lines between Sindi and Tuljapur Stations in Nagpur Section. The "war" bore fruits and at 3.30 pm of July 26, the first train passed through the section thus bringing the much much needed normalcy and providing a sigh of relief for thousands of passengers who underwent hellish ordeals by cancellation of dozens of long-distance trains, diversion of several trains, short-termination of trains and very very late running of trains.
The Central Railway press release issue at 3.30 pm of July 26 said, "From tomorrow, the normal activities could be seen at the Nagpur Railway Station as either no trains will be cancelled or diverted or short-terminated or rescheduled. Trains originating from Nagpur will run on scheduled time and scheduled routes."
"The job of restoration of washed away tracks was short of a war. All the concerned departments, officials and employees worked as a team against all odds like heavy downpour, transporting required material to the spot. Around 500 wagons brought stones, sandbags, gitti (crushed stones). The Divisional Railway Manager Brujesh Dixit and other top officials reached the spot and immediately started restoration works on war-footing. The restoration, and the subsequent normalcy was achieved by Nagpur Division's 1000 employees and 100 officials under the guidance of DRM Dixit who worked day and night," the press release said.
It may be recalled, heavy rains that lashed Wardha and Nagpur had disrupted the train traffic as the ballast under the Railway track and bank including minor bridge was washed out away completely between Sindi and Tuljapur station on Nagpur–Wardha section of Nagpur division. The disaster of a sort triggered a terrible chain reactions as dozens of trains were either cancelled or diverted or terminated at the specific stations and resumed their journey back to the originated stations.
The disaster created a hell of a situation for thousands and thousands of passengers as they either found themselves stranded at Nagpur Station or had to go to the several stations of diverted trains. This nightmarish situation forced hundreds of passengers to cancel tickets, other hundreds went through ordeals of boarding trains from diverted routes thus making them feel in hell.