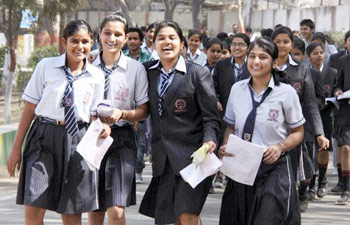 Nagpur News: CBSE Class 12 Results 2013 were declared by the Central Board of Secondary Education (CBSE) at 8.30 am on Monday (May 27).
CBSE has made the results available through the websites: results.nic.in, cbseresults.nic.in and cbse.nic.in
Also, Class 12 results 2013 can be accessed through SMS and over IVR. Through IVR, the results will be available at a charge of Re 0.30 per minute.
HOW TO CHECK RESULTS?
INTERNET
www.results.nic.in
www.cbseresults.nic.in
www.cbse.nic.in
IVRS (Rates will be 30 paise per minute, per roll number)
NumberTelecom service
011-24300699All
011-28127030All
54321128MTS Subscribers
1255536BSNL subscribers (landline and mobile)
54321223Indicom and Docomo subscribers
5207011Airtel subscribers
SMS
Type "cbse12(your roll number)" and SMS to:
NumberTelecom service
543216MTS
57766BSNL
54321, 51234, 5333300Indicom and Docomo
5800001Aircel
5207011Airtel
9212357123NIC
50000Vodafone
57272Jagran