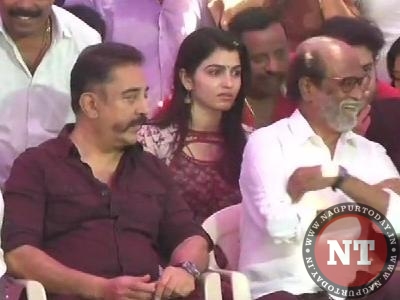 The Cauvery issue has brought together actor-turned-politicians Rajinikanth and Kamal Haasan on a common political platform. The two have joined Tamil Nadu protesters in their fight against the Centre over the Cauvery issue.
The leaders shook hands and sat together on the stage set for a silent march held by the South Indian Artists' Association along with other actors. This is the first time that the two have buried their differences and come together on a single platform demanding the constitution of Cauvery Management Board. Kamal Haasan has in fact already made statements against the ruling AIADMK government and the BJP-led Centre saying any delaying tactics in implementing the Cauvery Management Board is nothing but politics. Ilaiyaraaja, the doyen of Tamil Nadu's music industry was also seen greeting the duo.
Addressing a press conference here, actor Rajinikanth sought Prime Minister Narendra Modi's intervention in constituting the Cauvery Management Board. He also appealed that the IPL team Chennai Super Kings (CSK) sport a black band to protest against the matter.
As anger continues to simmer in Tamil Nadu over Center's delay in constituting the Cauvery Managment Board, as directed by the Supreme Court, political parties have taken out yatras and rallies to convey their unhappiness over the centre's alleged inaction in implementing the SC order. DMK leader Stalin along with opposition party leaders is marching from Chennai. TTV Dinakaran took out a march from the delta regions of the state. The bandh called by the opposition parties too witnessed massive success as almost 95 per cent of businesses in the state were reportedly closed in response to the protests