Cardiological Society of India holds installation of new office bearers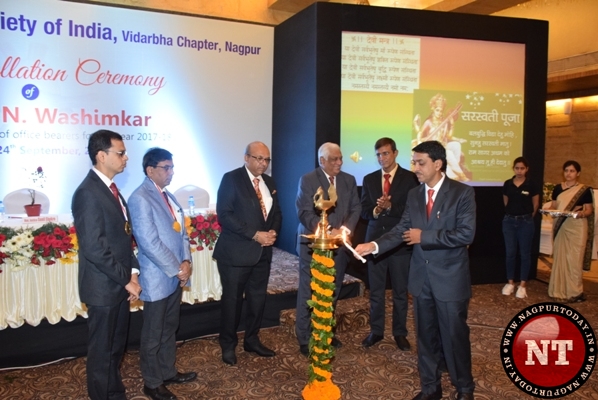 Nagpur: The Installation of New office bearers of Cardiological Society of India Vidarbha Chapter (C.S.I.) headed by Dr. Sunil Washimlkar as President and his team was held on Sunday 24h Sept. 2017 at 9-30 a.m. at Hotel Centre Point Ramdaspeth, Nagpur. The Chief Guest for the function was Hon. Justice Sunil Shukre , Nagpur branch Bombay High Court. Guest of honour Padmashree Dr. Mathew Samuel Kalarickal , Interventional Cardiologist Mumbai & Dr. Anvay Mulay Cardio-vascular & Caridac Transplant Surgeon, Mumbai were Guest of Honour.
The other office bearers installed on the occasion were : Organising Committee – Patron Dr. H.S. Bhargava, Hon. Secretary Dr. Anil Jawahirani, President Elect Dr. Anuj Sarda, Imm.past President Dr. Ram Ghodeshwar, Imm.past Secretary Dr. Pankaj Harkut, Vice president Dr. Nikunj Pawar, Dr. Kashif Syed, Jt. Secretary Dr. Vipul Seta & Dr. Swapnil Deshpande, Treasurer Dr. Deepak Sane Executive committee member- Dr. Achyut Khandekar, Dr. Avinash Sharma, Dr Jayant Wane, Dr. Manish Juneja, Dr. Mohan Deshpande, Dr. Mukund Ganeriwal, Dr. Nidheesh Mishra, Dr. Parag Admane, Dr. Pravin Nitnaware, Dr. Pushkaraj Gadkari, Dr. R.B. Kalamkar, Dr. Satish Das, Dr. Satish Poshettiwar, Dr. Shailendra Ganjewar, Dr. Shoeb Nadim, Dr. Suhas Kandfade, Dr. Suryaprakash Asawa, Dr. Vinay Panchalwar.
Special invitee : Dr. Y.V. Bansod GMC, Dr. Madhuri Holay GMC, Dr. P.P. Joshi IGGMC, Dr. Rajashree Khot, IGGMC, Dr. R.Mundle NKP Salve, Dr. Prashant Patil Gondia, Dr. P.D. Jalgaonkar DMIMS.
District co – ordinators :Dr. Pawan Agrawal, Amravati, Dr. Manoj Zhawar, Bhandara, Dr. Rohan Ainchwar, Chandrapur, Dr. Sanjay Agrawal, Gondia, Dthe ter. Gajendra Manakshe Wardha, Dr. Satish Chirde Yavatmal.
At the Outset, Dr. Ram Ghodeswar, President made introductory welcome speech and highlighted the achievements of his tenure. Dr. Pankaj Harkut, outgoing Secretary read the annual report. In his acceptance speech, President Dr. Sunil Washimkar highlighted his plans and announced that this year 10 children with congenital heart problems will be treated free of cost by members. Perturmed by the image of Doctor community these days he ureged colleagues to show their sacrifices and give their best in the interest of their patients. The high tradition of educational, academic and social activities will also be mainatained and also tried to surpass the history of 26 years. He later felicitated his teachers namely Dr. Madhuri Holey, Dr. B.G. Waghmare, Dr. Pradeep P. Deshmukh, Dr. Aziz Khan, Dr. Mukund Deshpande.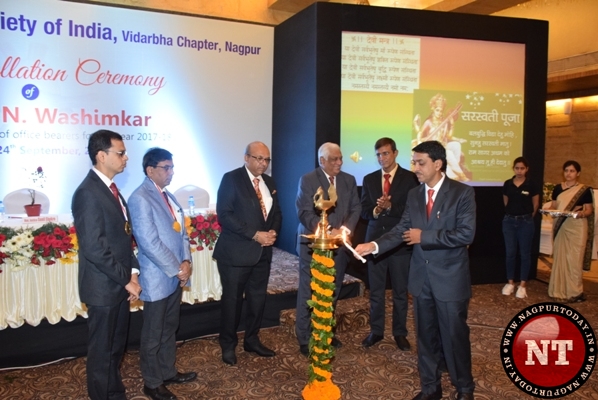 Fellow organisations like IMA, AMF, AMS, ISCCM, NOGS, ISANCB, and classmates felicitated the incoming President and Secretary. Chief guest Justice Shukre found similarities in legal and medical profession which runs of faith in the system by the citizens. He understood it is hard when undue criticism and vandalism in society hurts the professions image, true for any profession. He said in the changing time people expectations are very high, high population of our country with poor infrastructures may be also contributing to the frustrations. He assured that legal fraternity has always sided the medical fraternity unless gross negligence has caused the loss of life and supreme court guidelines underline that due considerations be given that minimum standard care are followed by professionals. Law always goes on principle of evidence and facts put on records and may fall short due to these limitations. He appreciated the work done by the CSI in upgrading the knowledge of their members for patient betterment. Dr. Mathew Samuel Kalarickal lamented on the state of affairs of the health care delivery system in India and the interferrecne by Babus and Politiicians without the background deciding on how the system should work.
The installation was followed by CME in which Presidential Oration was delivered by Dr. Sunil Washimkar on "Primary Angioplasty in Myocardial Infarction (PAMI) – The surmountable approach" and it was presided over Dr. Mukund Deshpande and Dr. Aziz Khan.
The "26th Dr. K.G. Deshpande Memorial Oration" on "Heart Transplantation: Logistics and Surgical Nuances" was delivered by pioneer Dr. Anvay Mulay. Mumbai. Dr. Swapnil Deshpande introduced him and read the history of this oration for last 26 years. Dr. P.K Deshpande Cardiac Surgeon presented the Medallion to Dr. Anvay Mulay. Dr. Nikunj Pawar and Dr. Satish Das will chair the Oration." He told his experience how it made him to think of path less travelled of focusing on Heart transplantation. He urged society to continue common cardiac problems without bias of speciality and supersepeciality or sub speciality and provide solutions. He also urged people to consider donating organs of brain dead persons (Cadaver).

Padmashri Dr. Samuel Math ew Kalarickal who was introduced by Dr. Prashant Jagtap, later disucssed on "Calcified Coronary artery disease!!! Do we have an answer?" and also presented the journey of Cardiology as a science and revolutionary developments of technology, thinkers and challengers. In conclusion hes said "We have come a long way from first angioplasty in India. My Moral obligation to leave a legacy for a better future, for our next generation, let us live our lives so that when our children and students think of fairness, integrity and honesty they should remember us alsways." This was chaired by Dr. Uday Mahaorkar and Dr. Prashant Jagtap.
Dr Vinod Khandait and Dr. Alka Mukharjee were the Master of Ceremony. Dr. Anil Jawahirani conducted the scientific session and also proposed the vote of thanks. Trade and Industry exhibition by sponsors were the highlight of the event.
Number of members and medical fraternity, friends and well-wishers of team attended the programme in large numbers and availed the opportunity to update themselves.