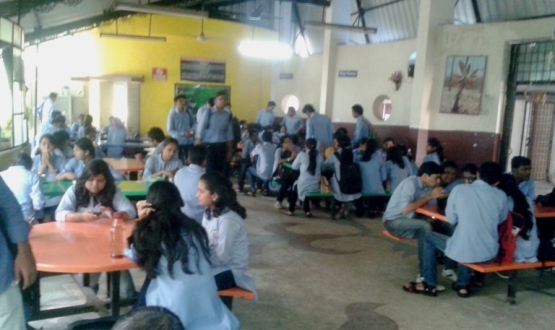 It's just not a place or a building; it has an endowed soul in it. An ambience of rendezvous where life is spent in a jiffy, an area for discussion of all worldly affairs, a beloved destination for one and all and an integral part of college life; not the academics, not the recruitment, not the pointers but that simple soul spreading happiness all the way. An inevitable ecstasy vaccine, a second home for umpteen, talking loud about our beloved college canteen!
Nagpur Today takes a fancy ride through the canteen life at Yeshwantrao Chavan College of Engineering.
Food Af'fair'
A feeling of togetherness, a feeling of cheerfulness is what you'll adore in the mini "kumb mela" scene of Yeshwantrao Chavan College of Engineering, if you visit any one of its canteens during break time. The aromas of indulgences will drive you crazy as you cross the threshold of any of these – Ozone Canteen, Swaragi Canteen or the Café Coffee Day outlet. Along with this, there's a new venture called 'Mahanand', basically a spot for all satiating the urge for milk products.
Canteen with facebook page
Located behind the admin block, popular among the students, run by Pramod Sundare and his family is the oldest one, recently named as Ozone Canteen. Accepting the challenge of turning 'choti wali canteen' into a successful and student friendly one was his motto. "College life comes only once and I want all the students to enjoy it to the fullest. I want my canteen to be the place they'll cherish throughout their life", said jovial Sundare. The only canteen having a Facebook page where 'Chola Samosa' and 'Dahi Kachori' are the most desired delicacies.
Buddies take over Tummies
Raviteja Mahavadi, a student quoted, "It's just not a food court, it's something special. Grabbing a soft drink bottle and winning brainless 'bottoms up' task is my favorite one." From departmental elections, magazine work, organization meetings, birthdays, 11th hour studies, games, dare and truth, playing cards, mass bunks, relationship advices till patch up, break up parties, everything 'Ozone' has witnessed. Some groups are always seen hanging out in this cafeteria. "We come even if our tummy is full, just to see if our pals are still here…" they added.
Professors' choice
The time wasted here isn't the wasted time. The publicity hub during the annual fest is experienced by all of our canteens, especially by Swaragi, located behind Department of Electrical Engineering. It is preferred by the professors, especially for their unending tea/coffee rounds. Poonam Chaudhari, Assistant Professor, Electronics Department mentions about her summer occurrence, "During the scorching heat term, we all lecturers relished ice cream daily at this canteen. Minimum one visit a day is essential for refreshing yourself during running hours as it helps to work with more efficiency thereafter." The so called 'Anti Ragging Canteen' or 'Sharad Pawar Pharmacy Canteen' is known for its 'Dahi Samosa- sasta aur sabse acha'. Vandana Daswani and Preeti Gokhale, both, Asst. Prof., Humanities Dept. appreciated the owner for the religious tenor given to the canteen and for creating a calm atmosphere. The canteen is being run by Rajendra Bhoyar for 7-8 years.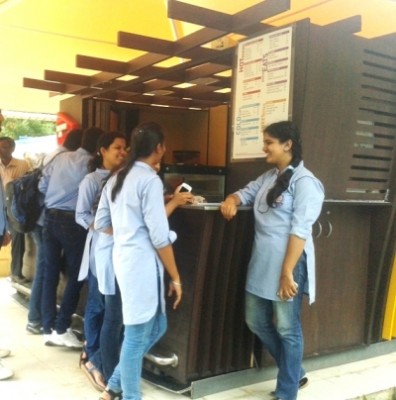 Gup-Shup over coffee cup
An open arena for debating, arguments on irrelevant issues, passing of love-letters, cracking gossips, kidding and having loads of fun with sandwiches, burgers, tea, coffee and tasty things is our Café Coffee Day outlet which stands tall near the first year block. Guys term the location as an apt sight for 'bird watching'. 'Chicken Mayo burger' is the darling dish here. Fondly known as 'Maalak', Siddharth Patil, is the one, students share their life with. Mahanand outlet, in front of Electronics building is famous for its 'lassi' and 'shrikhand.'
Contribution ka mazaa
"When hungry and out of pockets, we wait at the canteen looking for someone to sponsor us, 'Bhai chai to pila de yaar!'", confessed Abhishek Tanwar and Abhishek Gade. We just don't share cuisine, we share ideas too. The classrooms, labs and libraries- nothing seems as significant as the refectory. Canteen: An unwritten book of meringue memories, buzzing with life whatever time of day it is, today and forever, where 'Chillar contri karke khane ka maja hi kuch aur hota hai!!'
Contributed By
-Shalaka Kulkarni.