Candidate Speak : BJP's Nitin Gadkari looks to create more jobs, farmers growth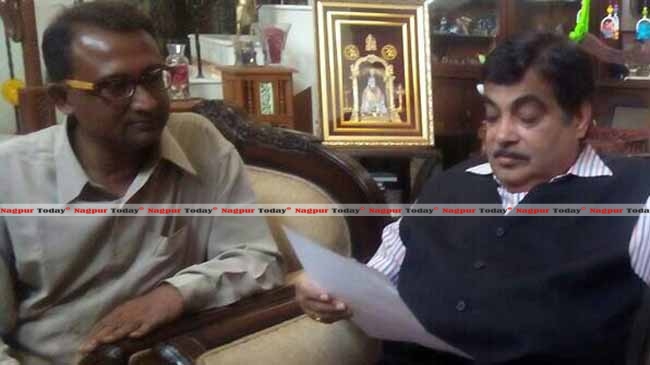 Nagpur News : Facing tough fight in his endeavor as the Lok Sabha candidate from Nagpur constituency, senior BJP leader Nitin Gadkari is pitching himself amidst his agenda of development. Gadkari's poll ambition not only entails seeing him win the battle but also reaching out to farmers and youth through working out schemes for their benefit. In his agenda, Gadkari wants farmers from the region to grow sugarcane along with cotton and soyabean making this region rich in the agriculture produce. He also looks forwards towards empowerment of youth as youth is the root of the society. He also has promised low cost houses to around 50000 households he wants to regularize the layouts.
In an interaction with Nagpur Today, Gadkari shared his views over various development issues.  When asked about the jobs for the youth and higher studies, he planned to set up MIHAN SEZ MBA colleges all in the next 2 years. He has already brought in SIS which will provide about 3000 jobs at packages at par with any other metro of the country. He also wants the cotton growers to be more powerful as this will make the region better.
Gadkari has also made inclination towards boosting tourism in the region. He feels that being the Tiger Capital, Nagpur is very much a place for national and international tourism and should be marketed well.
When Nagpur Today asked what he would have been looking towards if not into politics, he said he would love to be a Social Worker. He runs many Ekal Vidyalayas in the rural areas of Gadchiroli.
Talking of National issues he says the country has seen the peak of misrule corruption and price hike. If elected to power the party as a whole has a vision to cut down the prices by at least 25% this will certainly give a huge sigh of relief to the common Man who is the heart and soul of this country.
Modernization has been another issue for the party and he is one of the key architects to design the modernization process. Many new technologies have been brought out by his vision in the field of agriculture automation transport and many other sectors.
When asked about the controversies surrounding him he as ever smiling replies in a very simple note "if you work you will face opposition but if you don't work no opposition at all, the best answer to all this is filing a criminal case against such entities".
Till date only allegations have been filed against him but nothing has been proved as yet. He had resigned from the post of the president so that he could come back clean after a clean and clear investigation. Ending the holi interview on a lighter note Gadkari says put colors on me from different angles but people of Nagpur will cleanse all the allegations by their love and affection for him.
–        Manohar Roy