The annual event of Cadence Academy presented by Balaji Entertainments.
Nagpur News:
A presentation by an event coordinating company, Balaji Entertainmentsin association with Cadence Ramp Inferno 2014 is all set for the annual event of Cadence Academy.  This Mega event will be organized at Vasantrao Deshpande Hall on June 21, 2014. The title sponsor is Perfect Bidai (Wedding Planners & Decorators). The main sponsor for the show is Tidke Group of Institutions and is being celebrated in association with fbb (Fashion at Big Bazaar).
Owner of Balaji Entertainments Sanjay Kukreja, Managing Director of Cadence Academy Rupesh Kumar and Group Chairman of L-7 Group Ravi Agrawal addressed the press meet.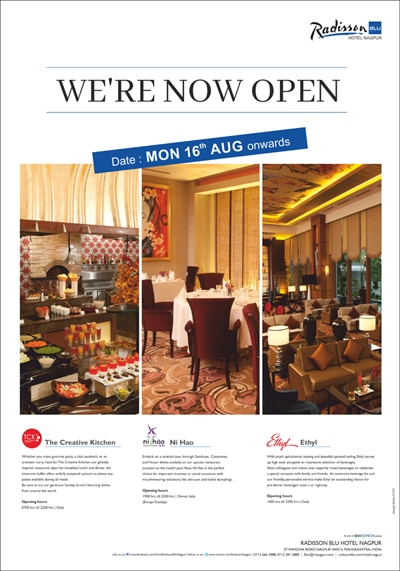 Cadence Ramp Inferno is the annual event organized by the known Fashion & Interior Design Institute, Cadence Academy. The event is organized by the academy every year to provide platform to all the budding fashion designers of the academy. Managing Director of Cadence Academy Rupesh Kumar said that this is the 14th year of organizing the event.
While explaining about the sequence of the events, he said that the Wardhman Nagar Centre will present "Modern twist" and "Graceful back" fashion sequences. The Dharampeth Centre will present "Mummies Night Out" and "Flavours of India" fashion sequences. Likewise Sadar will present "Whimsical Layers & Royal Folds" and Medical Square Centre will present "Illuminati" fashion sequences.
Rupesh Kumar said that this year they have added some dance sequences too. Dazzling dance performances will be eye catching phenomena during the event all the performers are said to be from Kolkatta.
The audience will have an exclusive look of the celebrity guest Zoya Afroz who is former Miss India and "The Expose" movie fame walking the ramp during the show. The costumes of the celebrities' have been designed by the students of Cadence. Heartthrob songs are going to be crooned by Vijay Prakash (Chanel V and Nokia Fest fame) will enthrall the crowd.
He said that they have invited models from Kolkatta who will be displaying the dresses designed by the students of Cadence Academy.
The names of the models are Manani Chaudhari, Namrata, Deboshmita Banerjee, Deboshmita Bose, Tamori, Deepshika, Anamika and Priyanka Mondal.
He added that Cadence Ramp Inferno is supported by very well known partners namely: Hospitality partner – Hotel Hardeo , Radio Partner – 94.3 MY FM , Tadka Partner –  Waghmare masala , Food Partner – Panino , Decoration Partner – FCS ,  Capello studio and L7 group.
Cadence Academy is known for its repute and expertise in fashion/ interior design education sector and has successfully completed 13 years of imparting educational excellence. The institute offers diploma, graduate and master degree in various streams.
Rupesh Kumar said that our students don't have much scope to show their expertise in Nagpur, however, many have gone to Bangaluru and have established themselves. He said that these students can get to show their innate and acquired talents only where garment clusters or industries abounds. These are in Delhi, Mumbai, Bangalore etc.
Group Chairman of L-7 Group Ravi Agrawal said that these students cannot pursue their career her in Nagpur since establishing their own boutiques require huge financial investments, which they will not be able to procure through banks etc. Therefore in order to establish and pursue a career in fashion, they have to venture out. This has often become a hinderance for many girls to pursue a career in this industry.