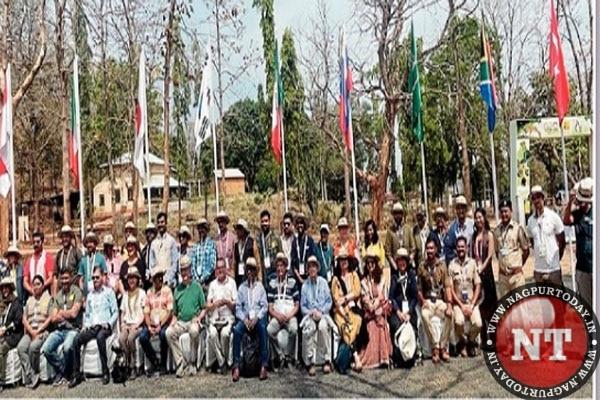 Nagpur: On the concluding day of Civil20 (C20) inception meeting in Nagpur, the delegates were fortunate to experience tiger and other wild animals during safari in Pench Tiger Reserve (PTR), Maharashtra on Wednesday.
The delegates also witnessed different conservation related programmes being carried out in PTR by the Forest Department. Forest Department officials explained to the delegates about all tiger conservation activities which are underway in PTR and all over Maharashtra. The officials also shared the success story of tiger conservation in the country.
Total 54 national and international C20 delegates visited Pench. They were given traditional welcome through teeka, flowers and tribal music performed by villagers and the forest officials. As the day coincided with Gudi Padwa, delegates performed the pooja of the Gudi after arriving at Pench. They left for the safari where they witnessed the beautiful PTR jungles. Many of them could even spot tigers along with Indian Gaur, Sambhar, spotted deer, four-horned antelope, golden jackal, wild dog and a number of avian fauna and other biodiversity.
The delegates were led by Ajinkya Bhatkar of WWF and Sanjay Karkare from BNHS. On this occasion, Field Director of Pench, Sreelakshmi A, Deputy Director of Pench, Prabhu Nath Shukla, Additional Collector Asha Pathan, SDO Vandana Savrangpate, ACF Atul Deokar, ACF Kiran Patil and other officers and staff were present.
Most of Civil20 delegates fly out of Nagpur:
Most of the delegates from various countries and across India flew out of Nagpur after attending the two-day Civil20 India 2023 Inception Conference here and then taking a tour of Pench Tiger Reserve and Go Vigyan Anusandhan Kendra at Deolapar. Many delegates who flew out of Nagpur were wearing Indian traditional dresses. They were proud to be wearing the ornaments, and carrying along the souvenirs, to keep Nagpur in their memory.
According to the administration, the delegates shared their feedback regarding their stay in Nagpur and said that they were carrying pleasant memories. Mata Amritanandmayi Devi, Chair, Civil20 India 2023 Inception Conference, and her entourage flew out of Nagpur on Wednesday afternoon. Vijayalakshmi Bidari, Divisional Commissioner, Nagpur; Dr Vipin Itankar, District Collector, and other officers were present.