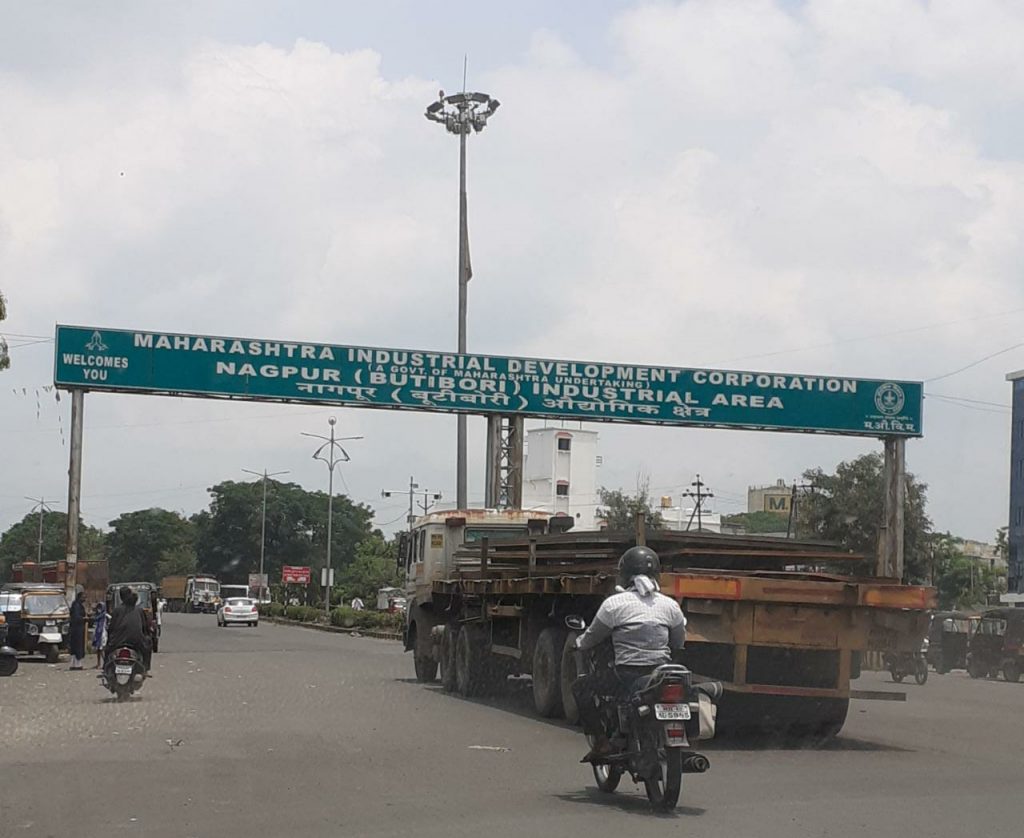 Sitting few meters away from the main entrance road to Butibori industrial area, I see many huge trucks, even rigs driving to and fro and I feel happy. This industrial estate is doing well, better than others in Nagpur, I feel.
To know the facts, I have a meeting with the Butibori Industries Association office bearers. All Nagpurians who have founded and are running their industries here, living in far away Nagpur. They are professionally qualified people who could have easily landed cushy jobs in Pune, Hyderabad, Bangalore etc but chose to remain in Nagpur and contribute to its growth. Pradeep Khandelwal, President, Nitin Lonkar IPP, Shashikant Kotharkar, Secretary, Shashin Agrawal, Treasurer, Nitin Gujjelwar, Joint Secretary and Vijay Agrawal Associate EC Member. They are all heroes in my eyes and should not remain unsung!
What are the odds they are battling with to keep their industries running?
1. No local transportation: till Butibori or within the huge estate. Even the Nagpur Metro comes only till MIHAN though Butibori MIDC is much older and the metro much more needed for people working here. More so now that petrol is Rs 107/ per litre!!
2. High cost of power. Very high compared to neighboring states like Chattisgarh and Telengana. The same old question arises – when we produce power why don't we get it cheaper than rest of the state? Power tarrifs need to be reduced by at least 40%.
3. Mumbai is too far away and the Babus sitting there ( the IAS lobby) isn't Vidarbha friendly at all! For so many clearances, permissions one still has to go to Mumbai. Nagpur's second capital status comes with no benefits at all.
4. The artificially inflated cost of land by MIDC deters new industries from coming in or expansion projects of existing units. The price determined by MIDC are Rs 1750 per square foot for industrial and Rs 4000 for Commercial plots.These rates do not match with the Ready Reckoner rates which a prospective buyer would compare with. IT SEEMS LIKE THE RATES ARE PURPOSELY KEPT HIGH TO DETER BUYERS! Otherwise what was the logic of increasing rates from Rs 200 in 2008 to Rs 1750 now?
5. No medical facility for workers. Despite both MIDC Hingna and Butibori together making over Rs 2 crores contribution to ESIC per month there isn't even a working clinic or ambulance facility in either estate. The one ESIC hospital is situated deep in Nagpur miles away from either estate! FOR WHOM IS IT BUILT?
If there are accidents/ mishaps there are only private hospitals like MAYA situated within Butibori where patients are rushed to. Then where are the crores accumulated from both workers and industries going?
Despite such shortcomings about 500 industries are registered but at a guess estimate fewer than 300 are running. Some even put the figure at a dismal 100!
AND THIS WAS PROCLAIMED AS AN UPCOMING BIGGEST 7 STAR INDUSTRIAL ESTATE OF THE COUNTRY?!
( to be continued…)
.. Sunita Mudliyar Ex-Editor