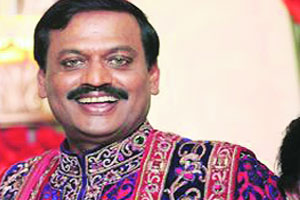 The chairman of Abhijeet Group Manoj Jayaswal who is the main sponsor of Lokmat's Nagpur Premier League (NPL)  is very passionate about sports. For him sports is one of an  integral part of his life. Actually Manoj Jayaswal is cricket lover but he also like the game of football. That is the reason why he has been the main sponsor of NPL for last three years. According to him, NPL play an important role in the development of football. He is confident that his team Abhijeet Group will win the crown in the third edition of NPL.
Q: You have been the main sponsor of NPL for last three years. What are your thoughts on sports?
Jayaswal: Each person wants to live his life on his own way. Business profit and loss is not everything in life. Sports is one of the vital aspects in my life. I have always promoted sports in the form of player or sponsor. Sports have its own importance in regular life. In fact it gives energy and keeps one healthy.
Q: Why you connected with NPL?
Jayaswal: When the organisers came with a proposal of NPL, I spent little time in giving my approval. The main reason behind it its objective. Vijay babu always strives to fulfill the social responsibility. . There is always a vision in whatever project Vijaybabu takes in his hand and NPL-1 was the part of his long term planning.People always asks me about NPL and football wherever I go. I like it very much.
Q: What is special in NPL?
Jayaswal: It is not necessary that every person gets involved in sports as a sportsperson. One can experience the thrill by visiting the playgrounds. It gives me energy to watch footballers showing their skill under the floodlights. We always witness thrilling matches in NPL.
Q: Basically you are a cricket lover. How do you feel after becoming one of the football franchises?
Jayaswal: Whatever we do we do it for our enjoyment. I become happy whenever I enter the playfield. It is not that I only like cricket. I am also aware about the thrill of football.
Q: Your attitude towards sports has changed after joining hands with Lokmat in NPL?
Jayaswal: No doubt. NPL bring me close to football. I come to know about craze of football in the city only because of NPL. I think Nagpur should know for football in the entire country just like West Bengal. Under the guidance of Vijay Darda, Lokmat has taken right steps in that direction.
Q: Any comment on Abhijeet Lions performance in last two editions?
Jayaswal: Victory and defeat are the part and parcel of life. Everyone enter the field to achieve victory. But it can't become possible every time. However I am hopeful that Abhijeet Lions will show their mettle in NPL-3.
Q: Are you happy with your team?
Jayaswal: Yes, I am happy over team. Along with local talented players, we have hired some Japanese players. Our team is a blend of youth and experience players. We are just waiting for December 2 when the final will be played.
Q: Last year you had hired the services of foreign coach. What is special this time?
Jayaswal: Considering previous experience, I have realized that foreign coach can't do the wonders in just one month. Therefore this time we have given the responsibility to local coach. The players also find no difficulty in adjusting themselves with local coach.
Q: Expectations from NPL?
Jayaswal: NPL is a good concept. Through NPL, the Lokmat Group brings the business houses of the city on one platform for football promotion. By adding entertainment with sports, Lokmat has also connected common people with football. I would like to see such tournaments in other parts of the country.
As Published in Lokmat