Jamal reciting for non-stop 128 hours to achieve the feat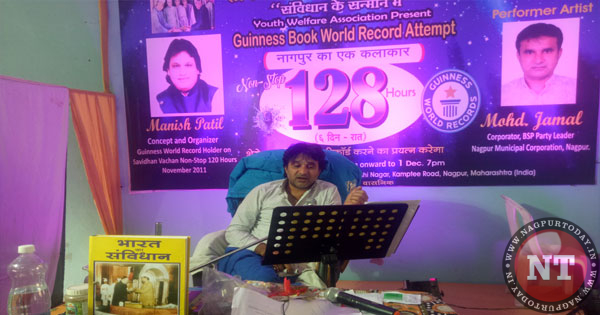 Nagpur: The Bahujan Samaj Party (BSP) Corporator Mohammed Jamal is attempting to enter Guinness Book of World Record in poetic way. Jamal has embarked on world's longest marathon of reciting 'Shero Shayri' by an individual for non-stop 128 hours in six days and nights.
The Corporator would be dedicating his record breaking feat to Dr Babasaheb Ambedkar on his 128th birth anniversary to be celebrated next year. Jamal has been allowed to take a break of 20 minutes after every four hours.
The feat to enter Guinness Book of Record was started by Mohd Jamal on Constitution Day, November 26 at 11.45 am at NIT Hall, Ashi Nagar, Kamptee Road and is expected to complete the target of 128 hours at 7.45 pm of December 1.
The event has been organised by Youth Welfare Association. The organiser Manish Patil said that there is no existing record of reciting 'Shero Shayri' by any individual and they aim to create one in new category. Each second of every minute is being recorded and following all protocols, he said.