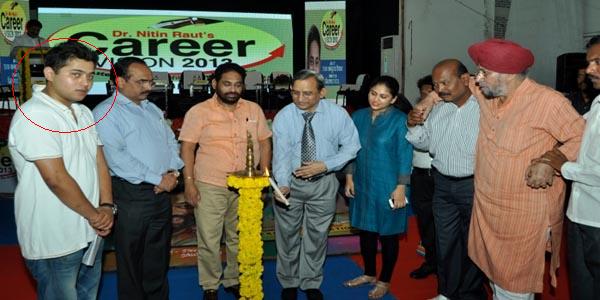 Nagpur News: Kunal Raut, the high-profile son of high-profile Employment Guarantee Minister in Maharashtra Government Nitin Raut, found himself in a slippery situation when he was  indulged in fight with labors  and forest officials.
According to reports, the incident occurred near Denva River Bridge Toll Post near Pipariya on Pachmadhi Road in Madhya Pradesh. Kunal Raut, who is also General Secretary, State Youth Congress, along with his friends, was proceeding towards Pachmadhi in Madhya Pradesh on June 25-26 midnight in a Toyota Fortunner. When they reached near Toll Tax Post the men there asked for toll money from Kunal Raut and his friends. However, Kunal refused to pay the toll money and an argument erupted between Kunal and his friends and the Toll Post men over the issue. (It is assumed that the language and the words used by Kunal and his friends were highly objectionable).
The issue triggered a hot exchange of words and finally resulted in fisticuffs between the Toll Post and the high-profile son of Minister Nitin Raut Kunal and his friends. At the same time some Forest Department personnel and Rangers were passing through the spot. They, too, intervened to calm down the situation. However, the high-profile son of a powerful minister, and his friends attacked them, too. The attack on them resulted an angry reaction from the Forest Department men and the Rangers. They too roughed up Kunal and his friends. After the ruckus, Kunal and his friends fled the spot.
Both the fighting parties were inflicted with injuries by each other.  The Pipariya Police Station ASI Verma confirmed the incident involving Kunal Raut and his friends. Pipriya Police have registered an offence against five persons including the Kunal Raut under Sections  294, 232, 506,332, 353, and 34 of the IPC.
The offence has been registered against Kunal Nitin Raut, Sangeet Singh, Navjot and Swapnil Telang.
Pipariya ASI Verma said all the accused have been sent to jail as their bail pleas were rejected by the court.
Two separate complaints — by toll post employee Babulal Rajawat and Deputy Ranger Ezaz Ahamad – were lodged against the accused with Pipariya police along with their vehicle registration number (MH 40 R 9).
… Ravikant Kamble