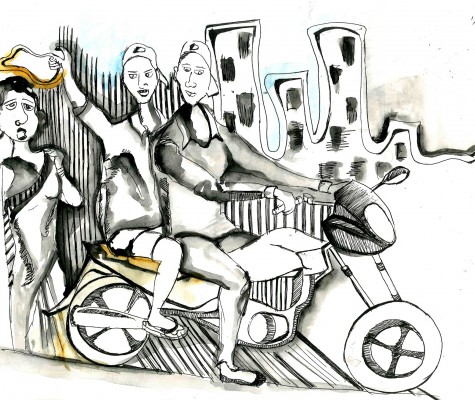 Nagpur News: A day after a woman was caught unaware by two bikers snatching away her golden chain at Swami Colony under Gittikhadan police station, another case of chain snatching clubbed with robbery and theft under Pratap Nagar and Sonegaon police stations kept cops on their heels. Even as the citizens appeal in distress, the culprits are operating on their free will. The functioning of police is under suspicion as the citizens have started believing that the criminals operate in collusion with the cops.
In an incident of house break at Shivshakti layout under Sonegaon police station, thieves barged into the house of 62 years old Madhukar Ninaji Amrutkar, who had gone out to shop along with his daughter. The unidentified thieves broke open the door's lock and took away gold jewelry and Rs 25,000 in cash. The total theft was reported to the tune of Rs 4 lakh. Police has registered the crime while the hunt for the accused is still on.
Meanwhile, two unidentified bikers aged 25-30 years snatched away a chain worth Rs 1,08,000 from Kalpana while she was riding pillion with her husband Avinash Balkrishna Mukkewar, resident of Renuka Vihar Colony. The incident occurred near south sport gate of Dikshabhoomi on the stretch from Laxmi Nagar square to Mata Kacheri Square under Dhantoli police station. Avinash was riding towards home when the accused grabbed her wife's neckpiece from behind.  The culprits are still at large.
In yet another incident of robbery under Pratap Nagar police station, two friends were beaten up by three unidentified youths riding passion bike (MH 31 CN 2264). The accused also threatened the two and took away their mobile phones worth Rs 22,500. Amol Bhoshrao Bonde, aged 23 years, resident of Nagbhoomi Layout was walking through the road from Nagbhoomi layout to Chhatrapati Nagar bus stop along with his friend Janardan Kakde (18). The three accused reportedly stopped the two, thrashing them with blows and fists. Later they rushed away with the mobile sets of both of them.