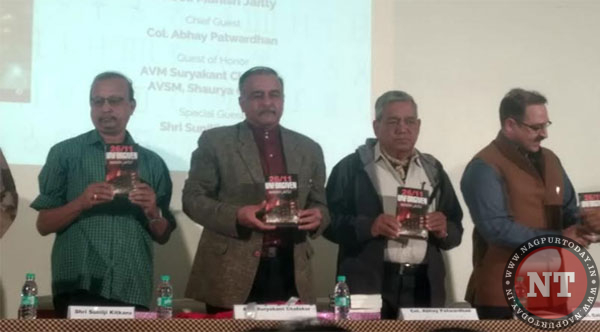 Nagpur: A book — '26/11/ Unforgiven' – penned by Lt Col (retd) Manish Jaitly, was released at a function organised by Indic Academy (IndicA)Nagpur, at Chitnavis Centre here on Tuesday. Air Vice Marshal (retd) Suryakant Chafekar, Col (retd) Abhay Patwardhan, Sunil Kitkaru of Rashtriya Swayamsevak Sangh (RSS), and Ajay Sudame of IndicA Nagpur were the guests on this occasion.
At the outset, the guests garlanded the portraits of Goddess Saraswati and 'Bharat Ratna' Atal Bihari Vajpayee, former Prime Minister, whose birth anniversary was on Tuesday.
The author of the book, Lt Col (retd) Manish Jaitly, speaking on the occasion said, "Wars must end with a logical conclusion. Wars need to be ended, and not stopped mid-way due to political intervention. When the military fought war for a country those needed to be allowed to reach the logical conclusion. However, in case of India, the Government stopped the wars with Pakistan whenever the Indian forces had an upper hand. This stopping of war does not help India. We need to defeat Pakistan comprehensively," he stated and added "India faced attack after attack because the country did not give a befitting reply to perpetrators sitting across the border. While the victims of 26/11 terror attack on Mumbai were yet to get justice, the perpetrators like Hafiz Saeed were roaming freely in Pakistan.
He further said, "Despite the fact that one of the attackers Ajmal Kasab, and David Coleman Headley spoke of involvement of Lashkar-e-Taiba and Pakistan in 26/11 attack in Mumbai, some people wrote books in India to call the attack a conspiracy by RSS. Now, some individuals are talking of forgiveness. Has Hafiz Saeed sought forgiveness? If not, why are these people talking of forgiveness? Will it give solace to families of victims of such an horrible attack?" Lt Col Jaitly asked.
Air Vice Marshal Suryakant Chafekar shed light on the book and said that the psyche of fundamentalists involved in terrorist attacks should be understood well to find a lasting solution. According to him, fundamentalists among Muslims did not recognise the Constitution or any law of any country as they were all for establishing 'Ummah' using Jehad as a tool. He stressed upon the need for India to stand united against terror. He also appealed to the common Muslims to join the mainstream and reject the fundamentalists.
Col Abhay Patwardhan appreciated the author for cleverly blending the fact with the fiction in the book. He also praised authentic descriptions, and called the book a 'racy thriller'. As far as the 'issue' between India and Pakistan was concerned, he said, it would not be settled till Pakistan was destroyed. "There are sleeper cells of terrorists. Nagpur also has 20-25 sleeper cell members, but society does not report it to the security agencies. Because, we have become a nation of cowards. But, if we want to fail the nefarious designs of Pakistan, as a society we will have to stand united and develop a sense of patriotism to protect India," he stressed.
Sunil Kitkaru said that there were international conspiracies to destabilise India. Pakistan had designs to stoke the sentiments so that Bhima-Koregaon incident boiled into communal riots, he said. Coming down heavily on people targeting RSS with ill intent, he said that now RSS was countering by dragging those levelling baseless charges against it to the court. He appealed to the people to place national interest on top in thinking and action. Sapna Kale conducted the proceedings of the programme and Mandar Ghotkar proposed a vote of thanks.