Nagpur is abuzz with youth dens exposed to the bustling city traffic. These places have their small world into which breathes the lively youth talks and flaunts their now-make-then-break attitude. The happening addas include the food corners, coffee shops, snack bars or the good old pani puri joints.
Nagpur Today visited some of the most popular youth haunts in the city. The aim was to find out who these youth are, what careers do they pursue, what do they generally discuss when they come together. Is it just a freak out time or a serious one, we aimed to unravel the nitty gritty of their conversations, freaking out and fun-time that they usually resort to.
Today let's visit bhelpuri stalls opposite Traffic Park.
About Straightening Hair and "of course Boyfriend"!!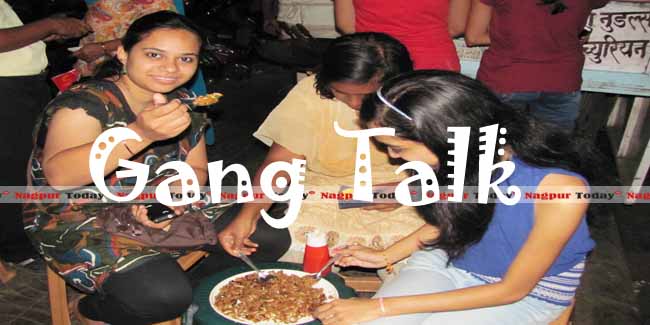 Three gals Vaishnavi Ingle (MCA Raisoni), Deepti Nichat (M.Sc, Ambedkar College) and their friend were positioned cozily at one of the bhelpuri carts. Vaishnavi said that they were discussing on how to straighten their hair, the complications involved and whether it will suit their face-cut or not. Deepti Nichat was against it and had argument or the demerits of hair straightening. She believed that natural hair should be left as it is. It should just be maintained properly. When our representative asked what else they usually talk about, they promptly said, "of course boyfriend". But then they quickly added that they talk of boyfriend or their friends and how their friends behave with them.
How guys tease gals…
Another group that had gathered for a relaxing time together at this spot had Ankita Takale (M.Sc Institute of Science), Swapnika Godbole (BE Final NYSS), Hemani Gupta (BSW, MSS). The group consisted of classmates right from their school days.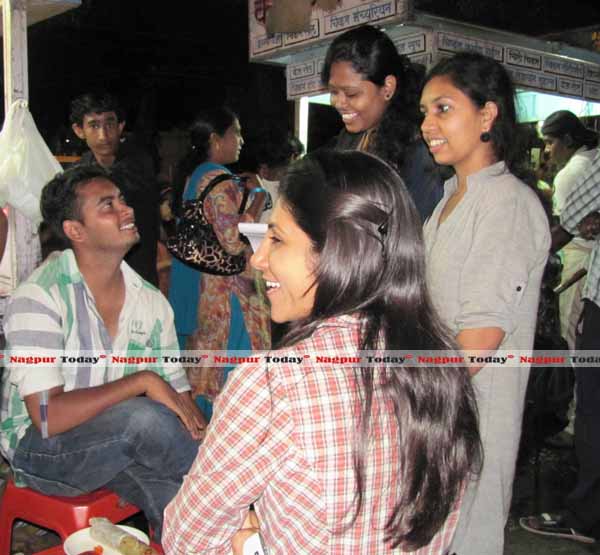 Ankita was the happy go lucky of the group and was very vocal. She said that they were just talking about the way the guys tease gals, the comments on their figures etc. She went on to relate how they were teased by a group of guys about the way they were driving their bike. That started a lively conversation. She then added how they usually talk about clothes, the trendy one apt for each of them, the jealousy usually displayed by others whenever they wear something really beautiful.
Sole entertainer
Swapnika said that she usually is the only one in the group who entertains them with movie talks, heroes, hair-styles of heroines. She added that the group also discusses on the latest applications available on mobile phones. They usually indulge in sending songs, photos etc. during their meet.