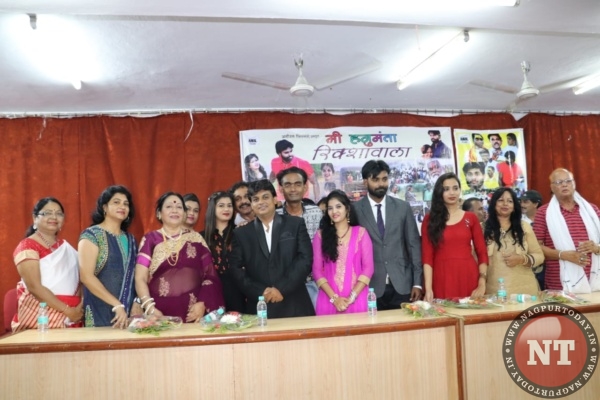 Nagpur: A Marathi Feature Film Me Hanumanta Rikshaw wala presented by Aviral Films launched a song 'Bola Bhim' at Dr Ambadkar college auditorium. Meanwhile the star cast and producer Vinod Jaiswal were present on the dais. The film represents strong message against corruption, and involvement in social moments and social harmony.
What makes this movie special is, entire cast and crew of this film belong to Vidarbha itself. The film's writer-director Hamid Patel himself is himself from Gondia. He says that except for the technique, nothing was used outside of Vidarbha. The protagonist cast in the film, Chiranjeev is of Naxal-affected district, Gadchiroli. The lyricist of the film, Salim Akhtar, Shashi Tiwari are from Tasangaon village in Gondia district, Qawwal Shyamrao of Tasgaon gave his voice in the film as well. Rajesh Bisen composed the music.
Speaking on the occasion Vinod Jaiswal said that the main contribution in establishing democratic values is because of our Constitution. Dr. Ambedkar has given a perfect path to the oppressed people through the constitution. As Diksha Bhoomi is an Holly place for all the devotees so we chose the place to launch our song.
The film revolves around an honest rickshaw driver (Hanumanta) and his sister Geeta. Geeta works in petrol pump to help her brother. Meanwhile a corrupt politician enters in their life creating chaos. Along with this conflict, the movie touches many chords of the society.