Blood Donation Camp at GHIMR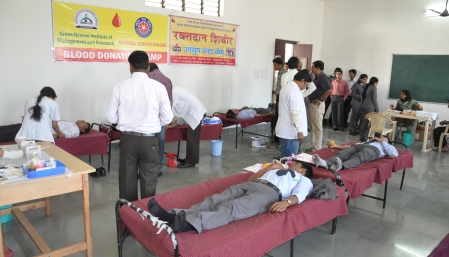 On the occasion of foundation day of GHIMR,  Green Heaven Institute of Management and Research (formerly known as Orange City Institute of Higher Education) Nagpur, JDBJS`s GHIMR installed a new NSS unit with 50 students at the hands of NSS RTM Nagpur University Co-ordinator Dr. Bhau Daidhar. The newly appointed volunteers organised a blood donation camp at GHIMR premises.  Anil Sharma secretary JDBJS bagged the honour of being the first donor of the day.   Amongst other donors were Advocate Pradeep  Agrawal , Dr Raju Sunder, Director of GHIMR, Faculty Members, Non-Teaching Staff  and the Students of GHIMR.    Total 34 persons donated their blood on this day.
Anil Sharma, Secretary of Jai Durga Bahu Uddheshiya Jankalyan Sanstha emphasized the need of blood donation and termed it as a noble cause which every healthy individual must do.  He himself being a regular blood donor, advised the students to remain healthy and donate blood in regular intervals as it costs nothing and serves a great deal.
Prof. Mubina Saifee, Prof. Arvind Khadse, Prof. Anup Suchak & Prof. Avinash Bhowate worked hard for success of the programme