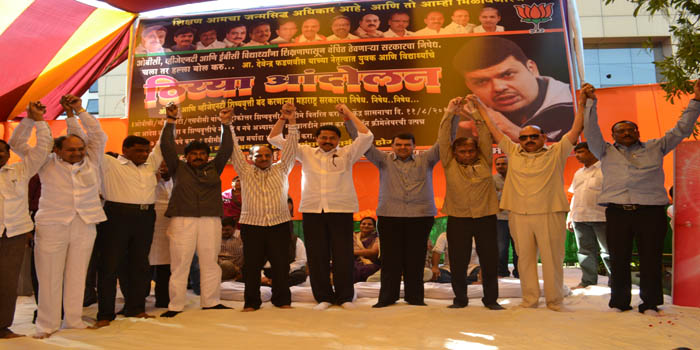 Nagpur News : The Bharatiya Janata Party (BJP) is all set to display its strength on the second day of Vidhan Sabha winter session starting from December 10 in Nagpur. Playing as a strong Opposition, the party has prepared to gherao Vidhan Sabha on December 11 with its around 1.5 lakh members coming to the city from across the state.
The agitation would be initiated to press for the series of demands like proper support price to cotton, rice and soyabean, raising the number of subsidized cylinders to 12 per year, rolling back the hike in power tariff, SIT inquiry into recently exposed irrigation scam, protesting FDI and arranging for proper water supply and pasture in drought hit areas of the state.
The agitation would be led by BJP National President Nitin Gadkari, Deputy leader of Opposition in Lok Sabha Gopinath Munde and pary's State President Sudhir Mungantiwar.
BJP spokesperson Girija Vyas informed that special trains have been arranged from Mumbai, Pune and Jalgaon to Nagpur for the party workers coming to participate in the rally.
Meanwhile, the BJP Women's Front Chief Nita Kelkar would lead Mahila Sangram Yatra from Pune toNagpur. This yatra will proceed through Shiroor, Ahmednagar, Jalna, Sindhkhed Raja,Akola, Hinganghat, Wardha and Butibori before reachingNagpuron December 10. Similarly, party workers from various districts of Vidarbha would arrive the city in scooter and cycle rallies to support the agitation. Former MP from Wardha Wagmare would walk toNagpur.
The residence and food arrangements for the arriving party workers have been made at Reshimbagh from where the morcha will start on December 11 in the morning. The rally would then proceed to Vidhan Sabha through prominent areas of the city including CP & Berar College Square, Mahal, Gandhi Gate, Tilak Putla, Subhash road, Agyaram Devi square, Cotton Market square, Anand Talkies, Munje square, Variety square and Gowari T-point where a mass meeting would be organised.